A new standard proposed by Siemens Digital Industries Software is poised to tackle a significant challenge for electronics manufacturers: thermal management.
Packing more performance and functionality into electronics designs is, of course, an ongoing goal for manufacturers, and increasingly powerful processors make that possible. But the success of those designs depends upon managing heat dissipation and other thermal factors, and up until now there has been no uniform format for exchanging thermal simulation data throughout supply chains. The result has been unnecessary duplication of effort and, worse, the potential for errors to be introduced into the supply stream.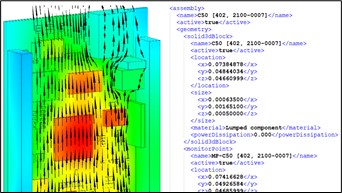 The JEP181 standard streamlines the creation of thermal models for new product designs. Source: Siemens Digital Industries SoftwareWith the establishment of JEP181, a neutral file standard from microelectronics standards development leader JEDEC Solid State Technology Association, thermal model data can be shared between suppliers and end-users in a single-file format called ECXML, for Electronics Cooling eXtensible Markup Language.
Siemens notes that the challenges of thermal model data sharing is one of the key limits to capitalizing on the benefits of thermal simulation throughout the product design process. Hours can be spent mining product data sheets for thermal information or re-implementing 2D engineering drawings within thermal simulation tools. The JEP181 standard allows 3D simulation tools to be seamlessly imported and streamlines the procurement of data necessary for constructing thermal digital twins.
While the standard is new for JEDEC, Siemens has been involved in its development for some time. Initially proposed by Mentor, a Siemens Business, ECXML was developed in 2015 to represent thermal modeling objects common between a range of commercially available electronics thermal simulation tools. It gained acceptance among software vendors as an alternative to working around multiple proprietary formats. By 2019, a JEDEC working group was set up with representatives from a range of major thermal solution software providers and electronics companies, with the intention of standardizing what had already become an industry de facto standard.
JEP181 offers applications for a number of emerging technologies and trends demanding increased power dissipation density such as miniaturization, 2.5D and 3D semiconductor packaging and 5G technology. For more information, visit the JEP181 page on the JEDEC site. More information about the history behind the development of ECXML can be found on the Siemens blog.