The 6EDL7141 is Infineon's three-phase motor control gate driver integrated circuit that enables the development of high-performance battery-operated products using brushless DC or permanent magnet synchronous motors. Applications include cordless power tools, gardening products, and automated guided vehicles.
The fully programmable solution for advanced motor control applications is packaged in a 48-pin very thin quad flat non-leaded package with a 7 mm2 x 7 mm2 footprint, delivers higher power density and improves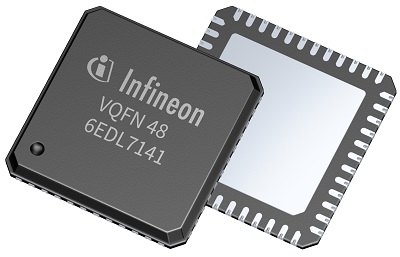 Source: Infineonoverall system efficiency.
The EiceDRIVER 6EDL7141 features a serial peripheral interface for gate drive outputs configuration, as well as an integrated power supply and dual charge pumps to supply all system functions. With an operating voltage ranging from 5.5 V to 60 V and a configurable driving current up to 1.5 A, it can drive a wide range of metal oxide semiconductor field-effect transistors effectively to fit the application. The 6EDL7141 has an adjustable gate driver supply voltage setting between 7 V, 10 V, 12 V and 15 V.
Thanks to its built-in dual charge pumps, it is able to maintain the gate drive even at low battery voltage. In addition, the smart driver is equipped with an adjustable gate drive configuration, with several current levels and timing options to control the slew rate and minimize system electromagnetic interference. All of the 6EDL7141 settings can be easily changed with the available graphical user interface.