Allegro Microsystems has introduced a new brushless, sensorless DC motor controller to be used with external N-channel power MOSFETs. The new gate controller is specifically designed for the automotive industry with targeted applications including engine cooling fans and oil and water pumps. The A4964 provides the supply and monitoring functions for a small interface between the microcontroller and the central engine control unit (ECU) and ignition switch.
Applications of the unit include automotive fuel controller, oil, water and urea pumps and control of fans and blowers. It is provided in both a 36-pins QFN and 32-pin QFP, both with exposed thermal pad.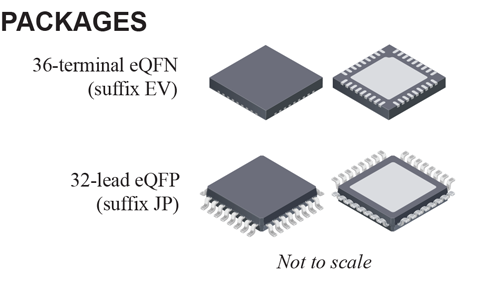 A4964 Packages. Image credit: Allegro Microsystems
Features and Specifications of the A4964
· Three-phase sensorless BLDC motor control FET driver
· Three-phase sinusoidal drive with soft start
· Sensorless start-up and commutation
· Windmill detection and synchronization
· Bootstrap gate drive for N-channel MOSFET bridge
· 5.5 to 50 V supply range
· SPI-compatible interface
· Programmable control modes: speed, voltage, current
· Peak current limiting
· Control via SPI or PWM
· Programmable gate drive for slew rate control
· LIN/PWM physical interface with wake
· Logic supply regulator with current limit
· MCU watchdog and reset
· Ignition switch interface
· Diagnostics, status, current and speed feedback
About Allegro
Allegro MicroSystems LLC is a leader in developing, manufacturing and marketing high-performance semiconductors. Allegro's innovative solutions serve high-growth applications within the automotive market, with additional focus on office automation, industrial and consumer/communications solutions. Allegro is headquartered in Worcester, Massachusetts with design, applications and sales support centers located worldwide. Further information about Allegro can be found at here.