The market for wearables—devices such as smartwatches, fitness bands, hearables and anything else worn on the body—marked an increase of 34.4% in the first quarter of the year, reaching 104.6 million units according to new research from International Data Corp.
This was the first quarter where wearable shipments topped 100 million units.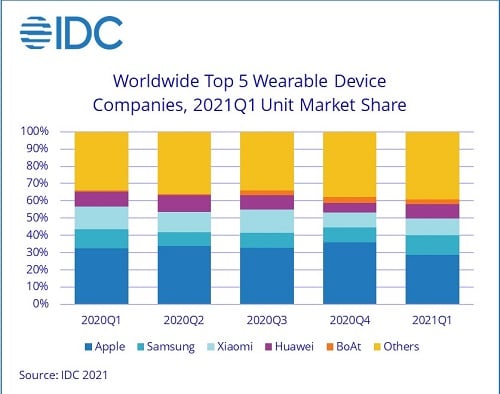 This was the first quarter where wearable shipments topped 100 million units. Source: IDCDuring the first quarter, market leaders such as Apple and Samsung maintained double-digit market share but most of the growth came from smaller companies.
"Larger companies have certainly drawn attention to the worldwide wearables market, yet it is the smaller companies fueling growth," said Ramon T. Llamas, research director for wearables at IDC. "Rather than compete head-to-head with products similar to the market leaders, these smaller companies have instead focused on specific markets and thrived with different solutions."
An example of this is Indian wearable vendor BoAt that focuses exclusively in the Indian market. Oura, another small wearables company, produces fitness trackers for major sports teams.
"Not only is the market being fueled by smaller brands, but newer form factors are also starting to gain some traction," said Jitesh Ubrani, research manager for wearables at IDC. "Wearable patches, rings and even audio glasses are starting to differentiate themselves from the typical watches, bands and headphones by offering tech that is hidden yet functional."
Other new types of wearables are emerging such as audio glasses as well from Bose, Amazon, Razer and others allowing consumers to be more connected while wearing a standard or necessary accessory. This may also benefit the market for augmented reality glasses in the future, Ubrani said.
Among the top companies, Apple was the leader in global wearables followed by Samsung that leaped ahead of Xiaomi for the first time, driven by its Galaxy Buds series. Xiaomi was the only company in the Top 5 to post a year-on-year decline in the first quarter of 2021 as it faces challenges to increase shipments outside of China, IDC said.
Huawei came in fourth without any presence in North America and focusing primarily on the Chinese market. BoAt outpaced Fitbit and Huami to retain its fifth-place position with a focus on hearables in the Indian market.