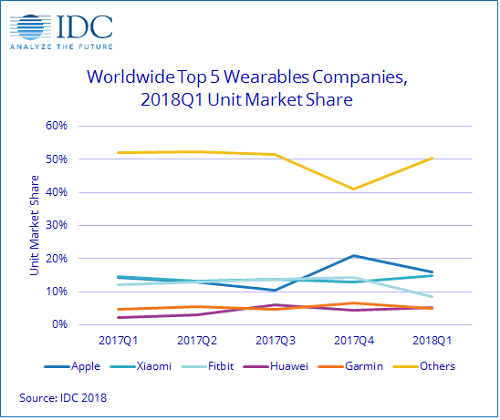 With numerous vendors in the wearable markets, Apple was the number 1 vendor with 16.1 percent market share in the first quarter. Source: IDC
New analysis from market research firm IDC shows that while shipments of wearable devices grew during the first quarter of this year by 1.2 percent, it is far lower than the growth the market witnessed one year ago.
IDC said this is due to the 9.2 percent decline in shipments of basic wearables. However, during the first quarter, high-priced smart wearables from vendors such as Apple, Xiaomi, Fitbit and Garmin grew 28.4 percent, representing a major shift in consumer demand.
"With the move towards smarter devices, we're also starting to see hints of where the wearables market is headed," said Jitesh Ubrani, senior research analyst for IDC Mobile Device Trackers. "Additional sensors, years of underlying data and improved algorithms are allowing pillars of the industry like Fitbit and Apple to help identify diseases and other health irregularities. Meanwhile, roughly one third of all wearables included cellular connectivity this quarter, which has allowed new use-cases to emerge."
IDC said beyond the market leaders, health and fitness remains the key value proposition of wearables from a laundry list of other vendors, but they are also turning to hearables — which are wearables that feature coaching, audio modification and language translation — and wrist-worn devices focusing on personal safety or child tracking.
Wrist bands and watches dominated shipments in the first quarter at 95 percent, IDC said, but sensor-laden clothing grew 58.6 percent year-over-year. The majority of this clothing included step-counting shoes, but fitness tracking shirts, shorts and other clothing items are on the rise and will continue to grow in coming years, the research firm said.
Of the top vendors, Apple was in first place in the first quarter with 16.1 percent of the market, followed by Xiaomi with 14.8 percent of the market. Fitbit was in third place despite a decline of 28.1 percent as the company seeks to launch new features on its health tracking platforms. The remaining Top 5 include China's Huawei in fourth and Garmin with 5 percent in the fifth position.
To learn more about the wearables market, check out IDC's Wearable Drive Tracker.