The verification of printed circuit boards, or PCBs, is so intrinsic to electronics development that news of small advancements in the field can almost seem like white noise: one new testing platform is faster, another can handle more complex architecture, still another conforms to the latest industry standards and so on. But recent news out of Siemens Digital Industries Software, part of the Siemens Group, may be a significant step forward. Its focus is not on the nanosized details, but on the larger picture of testing strategy overall.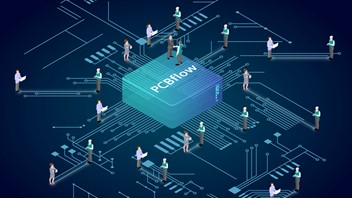 PCBflow is billed as an industry-first, secure cloud-based environment for accelerating design-to-manufacturing handoff between PCB designers and manufacturers. Source: SiemensThe company has introduced a cloud-based software solution, PCBflow, to bridge the gap between two ecosystems: electronics design and manufacturing. An extension of the Siemens' Xcelerator portfolio, it offers a secure environment for PCB design teams to interact with a variety of manufacturers — enabling rapid design-for-manufacturing (DFM) analyses tailored to manufacturing process capabilities, and accelerating design-to-production handoff.
The new solution is powered by Siemens' Valor NPI software engine. It performs over 1,000 DFM checks to identify manufacturability violations, which are then sorted and prioritized according to level of severity. Users are guided to rapidly correct violations through images, measurements, precise locations of solderability issues and other forms of support. "Producing and reviewing a DFM analysis report takes just minutes instead of hours," said Evgeny Makhline, chief technology officer for PCBflow customer Nistec, in a press release.
Siemens considers PCBflow to be a first step toward online solutions for PCB assembly that automate the critical design-to-manufacturing handoff process. In the broad view, the company's approach to create a marketplace of online, fully automated DFM analysis technology can help optimize designs, reduce front-end engineering cycles and streamline designer-manufacturer communication.
Dan Hoz, general manager for the company's Valor Division, added that PCBflow supports collaboration with a closed-loop feedback mechanism to drive continuous improvement: "Because customer designs are in sync with the fab's capabilities, respins can be reduced, time-to-market can be shortened, board quality can be optimized, and yield can be enhanced."
In a highly practical example, Siemens suggests that the electronic sharing of manufacturer capabilities can reduce the need for lengthy phone calls and email exchanges, enabling real-time customer communication to focus more on high-value strategic discussion.
Moreover, PCBflow requires no training or prerequisites. It works with the Mendix low-code development platform, which enables multi-experience apps building and data sharing from any location, on any device, on any cloud or platform. Support is currently offered for the ODB++ language design format; support for additional formats is planned later this year.