The developer of Design for Manufacture and Assembly (DFMA®) software announces the availability of DFM Concurrent Costing, Version 3.0. Deployed as a cost-analysis tool for engineering and procurement teams, the latest software from Boothroyd Dewhurst, Inc. (Wakefield, R.I.) allows manufacturers to move beyond "price" models, based largely on past bids, to industrial cost models grounded in scientific test data and studies. The result is a highly reliable "should cost" view of the product that offers insight into hidden cost drivers and ways to optimize both design and production.
DFM 3.0 allows OEMs and their suppliers to explore bids in a neutral framework where machine types,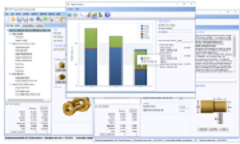 (Source: Boothroyd Dewhurst Inc.)speeds, processing sequences and optimum levels of automation are discussed. This better informed environment encourages supplier suggestions and deeper, integrated partnerships built around expertise, best-cost practices and shared goals.
The differences between traditional price models and data-driven cost models can be significant, affecting decisions about what regions or countries a product is moved to for manufacturing. Properly designed and costed products are more likely to stay at their original manufacturing location and near existing resources. OEMs and suppliers can collaborate around DFM software to address these and other strategic issues.
DFM analysis—done early in design or during prototyping—reduces time-to-market, impacts direct and indirect costs, and helps optimize product functionality. It can be used by individuals or teams in making trade-off decisions to lower costs.
Highlights of the latest version include:
•The geometry calculators in DFM 3.0 have been simplified and incorporated into the software's main response panels so that users are more supportively guided through a DFM Cost analysis of their parts.
•The default manufacturing operations and user-based process libraries have been streamlined and a new Test View panel has been added to all the formula windows. Development of customized operations and user processes is faster and easier.
•The overall look and feel of DFM software has been updated to provide a more cohesive user experience between Design for Assembly (DFA) and DFM should costing. Performance of the DFA/DFM software link has been improved from previous versions for more seamless data integration between software packages.
•Data export of management reports and graphs has been improved so teams can more easily use these DFM Cost results in their spreadsheets and presentations.
•New batch processing features make it easier and faster to print or export multiple reports and graphs simultaneously. Multiple CAD models can also be batch processed and geometry imported simultaneously
Boothroyd Dewhurst Inc. is offering its DFMA Short Course: Product Simplification & Costing using Design for Manufacture and Assembly, in Boston, Massachusetts, October 18-19, 2017.