Generally, CES is filled with a variety of automotive offerings that include prototypes and concept vehicles that may never see the light of day but that show what technologies may be possible in the future.
None of that happened at the all-digital CES 2021.
Likely, this is because these prototypes are difficult and costly to develop and if no one is there to actually "see" it, the project loses its luster. Word of mouth or a Zoom call to introduce the vehicle are not likely to garner the same attention for such technology as an in-person event might.
Still, some really cool and interesting automotive technology was introduced at this year's show. Here is what Electronics360 liked best.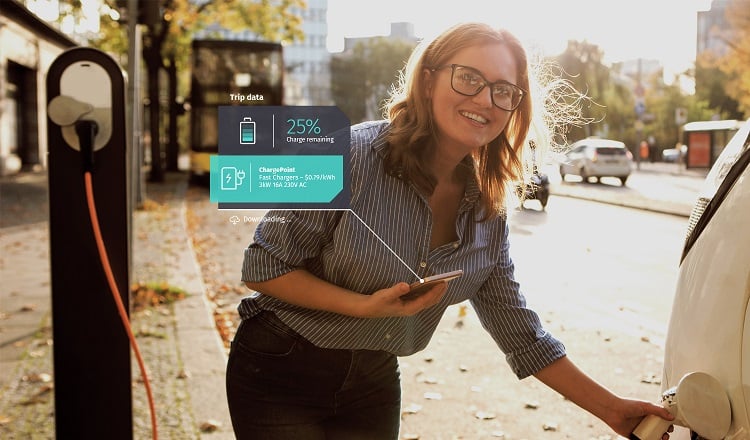 EV Routing could give electric vehicle consumers and businesses the best routes to take with detailed navigation to charging stations. Source: HERE
1) HERE's EV Routing
At CES, HERE Technologies introduced its 3D city maps and its EV Routing platform.
The platform delivers the fastest route for electric vehicles (EVs) to get from one point to another with the minimum number of charging stops and optimizing battery charge times based on the vehicle's charging curve and model.
With every automotive OEM pledging to increase its development of EVs and reduce combustion engine cars, as well as a host of new ride-hailing companies and delivery vehicles coming online that will be all-electric, fleets of vehicles will need to know where every charging point is and how best to get to them.
EV Routing plans trips considering topography, road geometry, real-time traffic info and traffic patterns as well as adjusts a route based on whatever EV a consumer is driving, their driving styles, cargo loads and weather conditions.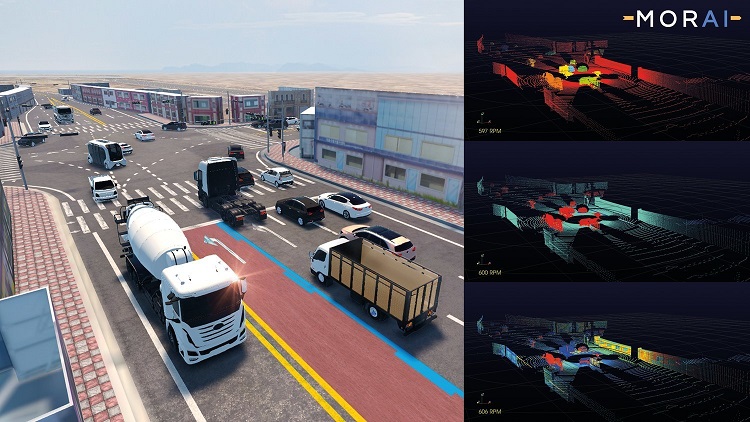 Self-driving simulations will allow automotive companies to test technology for situations that are hard to replicate on real roads. Source: Morai
2) MORAI's autonomous vehicle (AV) simulation
At CES 2021, South Korean startup Morai showed its autonomous vehicle simulation technology that recreates roads, sensors and even vehicles in a virtual 3D simulation environment, allowing developers of self-driving technology to test how their algorithms and software will react to different or dangerous scenarios.
The simulation grants full control of the scene to the test operator, allowing users to test for drastic weather conditions and edge cases that are not common when driving on the road.
Morai said real-world data, digital twins of specific regions of interest, based on a combination of detailed geospatial map data, and satellite imagery were key to building the simulation environments. These can range from a single city block to small segments of highway to entire city districts.
Morai plans to grow its network to more than 50 different partners and clients internationally with both automotive and tech industries as well.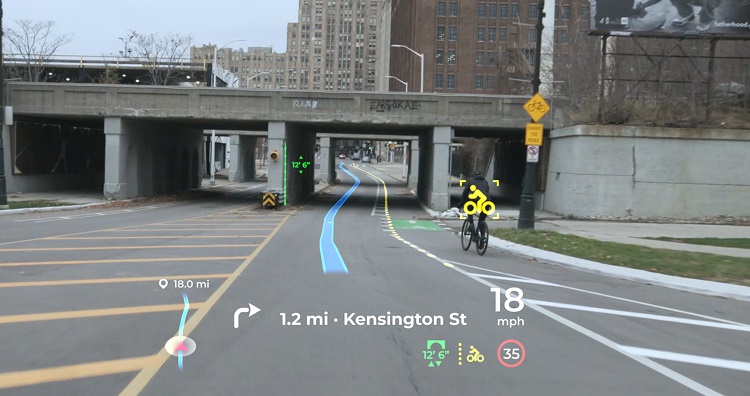 The augmented reality hub gives info about other cars, road obstacles and car data all in the field of view of the driver. Source: Panasonic
3) Panasonic automotive AR heads-up display
Panasonic Automotive Systems introduced a new augmented reality (AR) heads-up display at CES that uses artificial intelligence (AI) technology and a cockpit domain controller to render near-field and far-field content for features such as object and pedestrian detection, mapping and routing guidance, and vehicle information such as speed.
The AR HUD projects 3D information in the driver's line of sight to reduce distraction and increase awareness of potential hazards in the road. Using image positioning, the AR HUD features: reflection, a smart optical graphic road overlay for object/sign detection; intuition, to focus on what is ahead on the road; zonal, a UX optimized field-of-view that displays objects along the road; and mission control, bringing dynamic imaging visibility and the roadway together.
Other features include:
Eye-tracking that projects information based on the driver's eye position.
Advanced optics for a virtual image distance of 10 meters.
AI navigation, which provides multi-color 3D graphics that adjust to the moving vehicle.
Vibration control that locks onto the driver regardless of how bumpy the road gets.
Real-time situational awareness that provides advanced driver-assistance systems (ADAS) and other information in real-time to the driver.
3D imaging radar, which provides sensor-captured 180° forward vision up to 90 meters and across three traffic lanes.
4K resolution using advanced laser and holography for static near-field cluster information and far-field image plane for AR graphic overlay in 4K.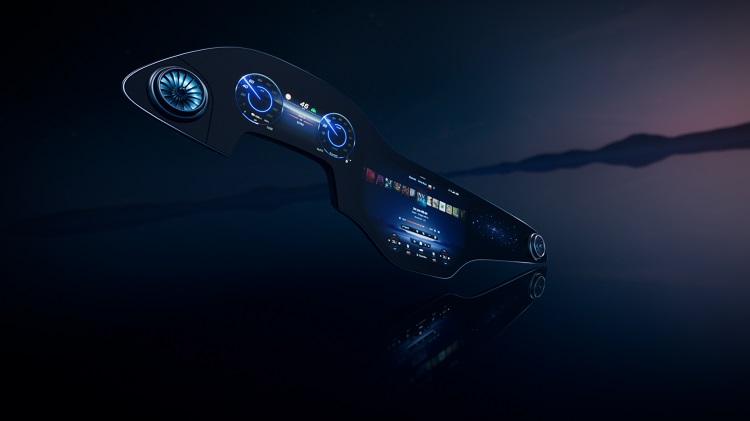 Hyperscreen will provide map info to drivers while being able to play a movie for passengers that the driver cannot see. Source: Mercedes-Benz
4) Mercedes-Benz Hyperscreen
Mercedes-Benz debuted its Hyperscreen at CES 2021. The Hyperscreen is a 141 cm console for vehicles that consists of three seamlessly merged displays that run over the entire dashboard. It is the largest human-machine interface the company has ever built.
The display includes AI and adapts to what passengers and the driver want from it, offering personalized suggestions for infotainment, comfort and vehicle functions. The display will include the Mercedes Travel Knowledge software that evaluates map data and its surroundings to provide information about interesting landmarks or shops along a given route.
Mercedes-Benz said passengers do not scroll through menus on the display. Instead, important applications such as navigation or hands-free calling are offered in the top level in the field of vision. More than 20 other functions are automatically displayed for passengers and drivers with the help of AI.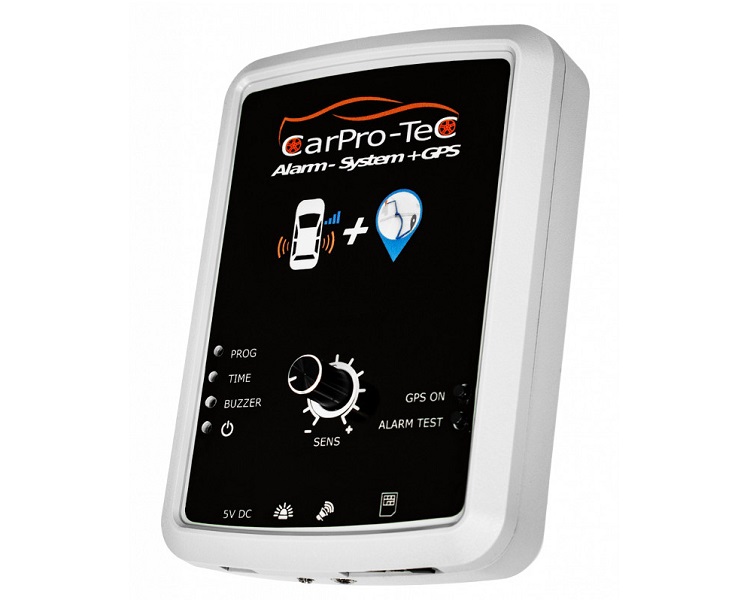 This little device can be placed anywhere in the car without any installation and send alerts to owners about any odd movement in the car to prevent theft. Source: Direct-Smarter Technology
5) CarproTec
Direct-Smarter Technology launched its CarproTec automotive security product at CES 2021.
The company said that because cars and trucks represent a high financial value, they are stolen and broken into every year. CarproTec is a new generation of vehicle security that does not involve retrofitting a security system into the vehicle.
The technology emits a loud alarm at the vehicle location and the owner is notified via smartphone in real-time with GPS tracking making it easier to find vehicles stolen or not. Built-in sensors register a change in the vehicle with the car doors, windows, trunk and wheels monitored without the installation of costly hardware.
The device can be placed anywhere in the vehicle — under the seat, in a glove compartment or trunk —without installation or monthly fees, so it works with old cars or new cars. If a user changes cars, they simply pick up the device and put it in the new car. Direct-Smarter Technology said a SIM card is in the device and holds data for up to five years and it is always connected to the strongest available network.