Mercedes Benz brought its post-autonomous vehicle concept to Las Vegas for this week's CES 2019, offering its vision of the automotive world once self-driving vehicles have become ubiquitous.
This won't happen for some time given that the automotive market hasn't yet reached Level 3 autonomous driving, but CES is rarely about the here-and-now and more about the future, regardless of how far off that might be.
Vision Urbanetic is autonomously driven, powered by an electric chassis and features modular pod structures for different applications. The Vision Urbanetic concept is a pod-like room on wheels that takes travelers to destinations, or alternatively delivers goods or services as it autonomously navigates. Mercedes-Benz envisions the Vision Urbanetic will consist of pod fleets for passengers, mobile retail or services, last-mile delivery or construction.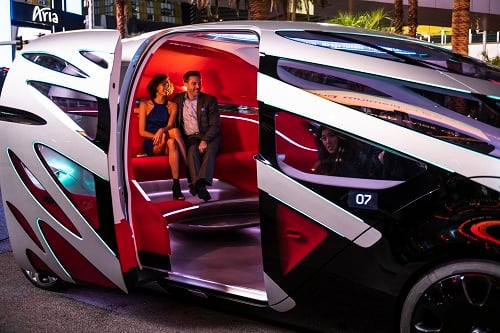 The pod can be used to transport goods or transport passengers. Source: Mercedes-Benz
Through various camera and sensor systems, the prototype pod perceives its surroundings and communicates with its environment. For example, pedestrians crossing the street in front of the vehicle are informed of vehicle direction via a large, exterior display. Several hundred light units signal to approaching people that the vehicle has recognized them.
The concept aims to reduce traffic congestion through ride-sharing and create new opportunities in future mobility. Urbanetic could reduce the number of vehicles on an unchanged road infrastructure, relieving inner city traffic and helping meet future smart city requirements, the company said. It would improve the quality of urban life, lower noise and pollutant emissions and give greater freedom in city planning.
Mercedes-Benz isn't the only one with a vision for a post-autonomous vehicle at CES 2019. Continental revealed its vision with its delivery pod complete with a fleet of robotic delivery dogs. An Australian automotive start-up debuted at CES with a robotic base concept that would house different types of pods for a variety of businesses and ride-sharing applications. And a pair of robotics companies are teaming up to develop pod-like shuttles for the French public transportation network.
Click here to find Electronics360's full coverage of CES 2019.