Silicon Motion Technology Corp. has introduced an enterprise-grade 16 channel PCIe 4.0 non-volatile memory express (NVMe) plus firmware turnkey solid state drive (SSD) controller designed for data centers.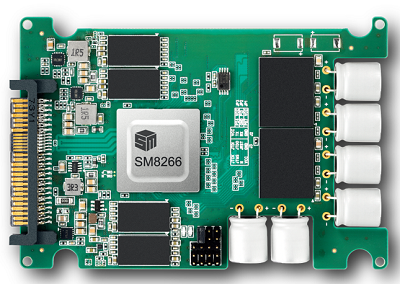 The SM8299 SSD controller for data centers. Source: Silicon MotionThe SM8266 controller features up to 16 TB with 16 NAND flash channels and supports the latest 3D TLC and QLC NAND flash technologies. The controller is based on Silicon Motion's 6th generation NANDXtend technology that incorporates machine learning algorithms and the company's high performance low-density parity-check (LDPC) error correction code (ECC) engine with redundant array of inexpensive disks (RAID).
Other features include end-to-end path protection that applies ECC to the SSD's static random access memory (SRAM) and dynamic random access memory (DRAM) buffers as well as the primary NAND flash memory array. Power loss protection in the controller eliminates the risk of data loss in the event of an unexpected power outage.