Due to the rising adoption of free and open RISC-V instruction set architecture (ISA), Microchip Technology Inc. has made available what it claims is the first system-on-chip (SoC) field programmable gate array (FPGA) development kit for this architecture.
The Icicle Development Kit for Microchip's PolarFire SoC FPGAs is designed to accelerate customer design deployment and commercial adoption across markets. Microchip said designers that want to deploy a programmable RISC-V-based SoC FPGA can begin development and evaluate the ecosystem products such as real-time operation systems (RTOS), debuggers, compilers, system on modules (SOMs) and security solutions.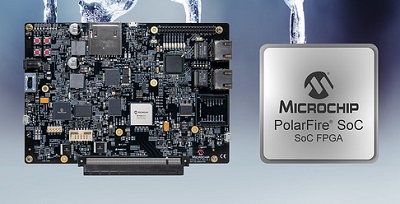 The Icicle Development Kit is for designers that want to deploy a programmable RISC-V based SoC FPGA. Source: Microchip"It's exciting to see a low-power RISC-V board for under $500," said David Patterson, vice-chair of the RISC-V International board of directors. "Microchip's Icicle Kit, with an embedded PolarFire SoC, will accelerate advances in the RISC-V software ecosystem and be a boon to applications that need a low-power mid-range SoC FPGA."
The Icicle Kit for PolarFire SoC and Mi-V ecosystem includes: RISC-V processor complex from SiFive and embedded trace macro from UltraSoc; development tools from Adacore, Green Hills Software, Mentor Graphics and Wind River; commercial RTOS solutions such as Nucleus and VxWorks; middleware solutions from DomerWorks, Hex Five, Veridify Security and wolfSSL; and SOM and design services from Antmicro, ARIES embedded, digital core technologies, Emdalo Technologies, Sundance DSP and Trenz Electronic.
The development kit is powered by a 250K Logic Element PolarFire SoC device and includes a PCIe connector, mikroBus socket, dual RJ45 connector, micro-USB connector, CAN bus connector, Raspberry Pi header, JTAG port and SD card interfaces.