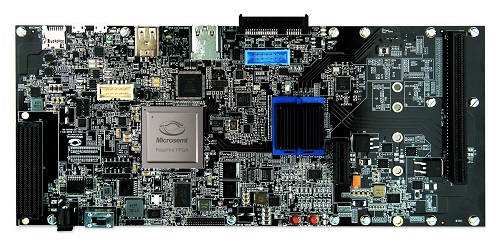 The HiFive Unleashed Expansion Board. Source: MicrosemiMicrosemi and SiFive have launched an expansion board that broadens the capabilities of SiFive's HiFive Unleashed RISC-V development board.
The HiFive Unleashed Expansion Board allows software and firmware engineers to write Linux-based applications targeting at 1GHz+ RISC-V 64-bit CPU. The board allows developers to implement custom peripherals in the PolarFire field programmable gate array (FPGA) and can implement a full-fledged RISC-V PC enabling PCI Express (PCIe) devices, USB and secure digital cards to connect to SiFive's Freedom U540 RISC-V processor.
The board is suited for embedded applications in the communications, industrial, defense, medical and avionics markets such as control plane solutions, imaging/video processing, machine learning, control processing, time-sensitive networking, encryption and root of trust, secure wireless communications and aircraft networking.
Additional features of the expansion board include a PCIe root complex, serial advanced technology attachment (SATA) port, M.2 SSD port, two USB ports, HDMI, DDR4 memory expansion, eMMC managed NAND flash and secure digital card slot.