Researchers from Dartmouth College found that information on social activity, screen time and location from smartphones can be used to predict the connectivity between the brain areas that control emotion.
Data from phone usage was analyzed and compared to results from fMRI scans to confirm the theory that information can mirror brain activity linked to mental health struggles. Predictions were based on the phone data matched the brain scans with 80% accuracy.
The team found that how often and how long a person uses their phone provides information about the functioning between their ventromedial prefrontal cortex and the amygdala. Both of these centers control a person's emotional state. The ventromedial prefrontal cortex is responsible for self-control, decision making and risk evaluation. The amygdala is responsible for the fight or flight response and helps people determine the emotions of others.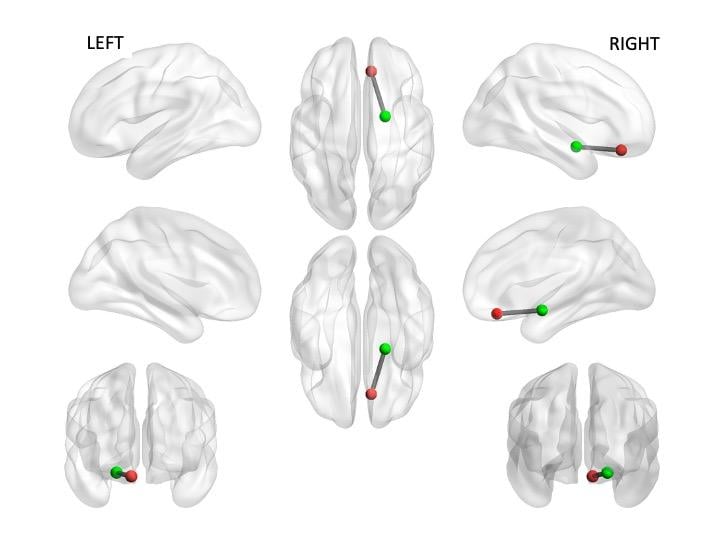 Researchers used mobile sensing data to predict brain connectivity between the ventromedial prefrontal cortex (red) and right amygdala (green). Source: Jeremy Huckins
For the study the team gathered data on social activity, screentime, location, exercise and sleep patterns. They found that people who had more screen time, regular exercise, earlier bedtimes, high social interaction and certain location patterns had higher functional connectivity between the brain regions and a positive emotional state. This aligned with the team's idea that there is strong connectivity between the ventromedial prefrontal cortex and the amygdala, which leads to a lower level of anxiety and depression. The weaker functional connectivity, the more likely a person is to have a negative emotional state.
Anonymous fMRI data from volunteer participants were placed in two categories divided by low and high brain connectivity levels. The team matched phone data against fMRI results. They found that they could predict which research subjects had higher or lower connectivity in the brain regions with 80% accuracy.
Passive information from smartphones eliminates the subjectivity that plagues other methods like personal interviews or self-reporting. Phone information could predict the emotional state of people at any given time without intrusive data collection.
A paper on this research was published in the Proceedings of ACM on Interactive Mobile, Wearable and Ubiquitous Tech.