Newark, a division of Avnet Inc., is expanding the range of accessories and add-on modules it stocks for the Raspberry Pi.
The new additions to Newark's portfolio include a 10.1 in touchscreen from Multicomp Pro and a new range of hardware-attached tops (HATs) from Pimoroni to allow makers, designers and engineers to add more functionality to Raspberry Pi projects.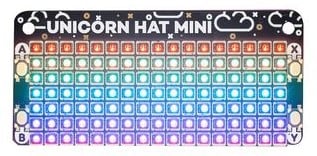 The Unicorn HAT Mini module for Raspberry Pi. Source: NewarkThe HDMI touchscreen display is a simple display that allows users to pinch, zoom and rotate the screen and can be mounted onto the rear of the interface PCB using the supplied pillars and screws.
Pimoroni's range of add-on HATs are used for sensing, lighting and automation. These add-on modules include:
Unicorn HAT Mini — a 17 x 7 matrix of RGB light emitting diodes (LEDs) that offers control of color and brightness to display animations, text, simple images and more. Four tactile buttons are used to control the color or brightness of the LEDs or for inputs for simple games or control projects.
Automation HAT Mini — a module for home automation projects to monitor and control 24 V systems showing its status on a 0.96 in full-color IPS LCD.
Scroll HAT Mini — a module with 119 LEDs suitable for scrolling text and it features individual PWM brightness control over each pixel, making advanced animation possible.
Enviro HAT — a module designed for environmental monitoring that can measure air quality, temperature, pressure, humidity, light and noise level.