Murata Manufacturing Co. Ltd. has introduced what it claims is the world's smallest ferrite chip beads for use in automotive power supply applications.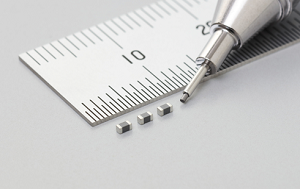 The BLM18SP_SH1 ferrite chip for automotive market. Source: MurataThe BLM18SP_SH1 chip is about 50% smaller in base area compared to the previous BLM21PG series, is compliant with AEC-Q200, is two times the rated current and three times the impedance of previous models and supports up to 6 A rated current, or 1 kΩ impedance
Ferrite chip beads reduce the noise in power supply circuits and ensure a stable power supply to each component. As the number of in-vehicle electronics grows, including the addition of cameras, radar, lidar and electronic control units (ECUs) for autonomous driving and electric vehicles, the need to reduce noise suppression is becoming more important.
The new series of chips supports manufacturers with more flexibility when designing automotive power supply circuits and helps support autonomous driving with in-vehicle components. The BLM18SP_SH1 chip will begin shipping this month.