Mass testing is underway globally to contain the COVID-19 pandemic, and the robots are here to help. Lifeline Robotics, a spin-out of the University of Southern Denmark, has developed a throat-swabbing automaton to scale and improve such testing while also keeping healthcare workers safe.
Two Universal Robots UR3 cobot arms and a custom 3D-printed end effector comprise the unit, which picks up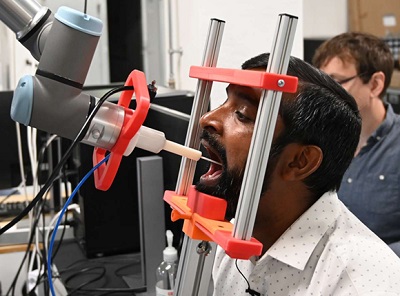 The robot performs throat swabs so that healthcare professionals are not exposed to the risk of COVID-19 infection. Source: University of Southern Denmarkthe swab after the patient has scanned an ID card. The robot then uses its artificial intelligence-based computer vision system to identify the right points to swab in the patient's throat. The process takes around 7 minutes in total, and the swab itself 25 seconds. Once the swab is complete, the robot places the sample in a jar, screws on the lid and sends the sample to a lab for analysis.
The robotic tester is expected to be ready for wide-scale deployment in the near term, and could find additional employment in mass screening for the virus at airports or for border control personnel.