An international research team has devised temporary tattoo electrodes for use in electroencephalography (EEG), enabling noninvasive monitoring of brain activity with a conformable film that is imperceptible to the user.
The development is based on previous research that used inkjet-printed conductive polymers to synthesize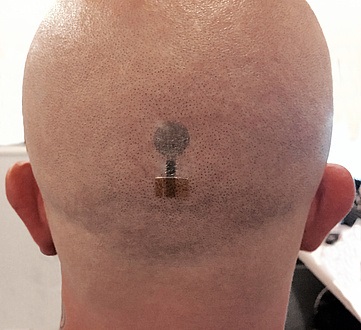 Printed tattoo electrodes were demonstrated to effectively measure EEG activity. Source: Laura M. Ferrari et al.sensors for electrocardiography or electromyography applications. The electrodes have a thickness of 700-800 nm and unlike their conventional gel counterparts function without a liquid interface. The dry electrodes eliminate the need for time-consuming application and are suitable for securing measurements over a long period of time.
Clinical tests demonstrated that the printed devices are as effective in measuring EEG signals as conventional electrodes and could prove useful for recording accurate magneto-encephalography measurements. The temporary tattoo electrodes recorded well-defined alpha waves during a 2-minute session, generating a signal comparable with those recorded by standard silver/silver chloride electrodes. The ultrathin electrodes were confirmed to allow for a high-quality signal transduction of biopotentials accessible from the skin.
The research conducted by scientists from Scuola Superiore Sant'Anna (Italy), Ecole Nationale Supérieure des Mines de Saint Etienne (France), Aix Marseille University (France) and Graz University of Technology (Austria) is published in npj Flexible Electronics.