Scientists and researchers from the Italian Institute of Technology (IIT) and University College London (UCL) have developed a form of temporary tattoo that can emit light using technology derived from smartphone and television screens. Body art, which has been around for centuries, can now glow.
But there is more to it than just looking cool; this has created a path for a state of the art "smart tattoo" that could be used for a wide range of applications.
These new tattoos use organic light-emitting diodes (OLEDs) and are applied onto skin via the same method used for water-transferred tattoos. This is achieved by fabricating OLEDs onto the special temporary tattoo paper, dabbing them with water and pressing them onto another surface, like skin.
Interesting new applications
The research team says that this new development can be used with other electronics for some very interesting functions. Tattoos could begin to light up when an athlete is too dehydrated, or in instances when we have been out in the sun too long and are about to become sunburned. They could also be utilized in the food industry by applying the tattoos to fruit or their packaging in order to show when it is past its sell-by date. Furthermore, there is the possibility to swap the direction of the light on the tattoo, and it could be a possible cancer treatment method if used with light-sensitive therapy.
Aside from the practical applications and functions of this technology, the aesthetic aspect is going to be a huge draw for the marketability of these devices. Since the whole tattoo is attached to the skin by a wet cloth, removing it requires just soap and water. There are no permanent markings or damage, which opens it up to an even wider market.
Body modification artists might be disappointed by its non-permanence. Yet, this will appeal to others for same reason. Those looking to celebrate Halloween or Christmas, or who want to invoke their favorite characters in cosplay, will definitely find appeal in the technology's simplicity and features.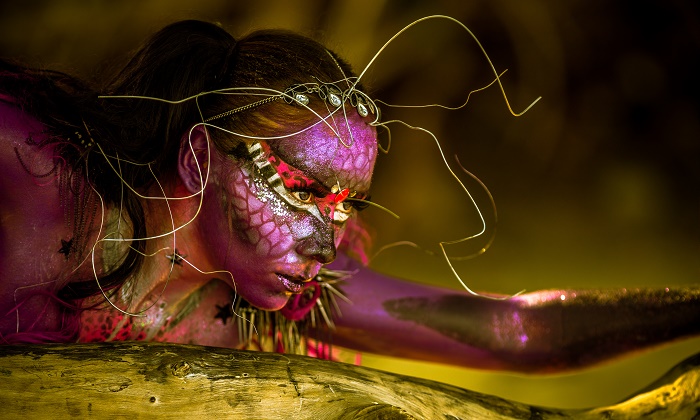 Cosplayers already use body and face paint to achieve a "light-up" effect. This will be enhanced even more will the development of light-up OLED tattoos. Source: Adobe Stock
The particular OLEDs that were developed for this study are the first examples that are cheap and scalable to be viable for the mass market. Now that the initial tests have been completed, this technology will face further challenges in developing a way of encapsulating the OLEDs to prevent them from degrading through mixing with air or moisture. Another challenge will be coming up with a lightweight, flexible supercapacitor or battery to ensure the OLEDs have constant power.
How is it made?
These new OLED devices are just 2.3 micrometers thick overall, which is amazing as that measurement is about just 1/400 of a millimeter, and around one-third of the length of one red blood cell. The construction consists of an electroluminescent polymer (i.e. a polymer that gives off light when an electrical field is applied to it) sandwiched between two electrodes. An extra insulating layer is then placed between the commercial tattoo paper and the electrodes.
The electroluminescent polymer is around 76 nanometers (one nanometer is a millionth of a millimeter) thick and are developed using a specific technique known as spin coating. This is where a polymer is applied to a substrate and is spun at very fast speeds, creating an even, but extremely thin, layer. Once the researchers had confirmed that their technology works, the first tests of these new devices were their application onto an orange, glass, paper packing and a plastic bottle to test their performance on various materials. The tattooable OLEDs worked and successfully emitted a green light, although the light color can easily be changed using the same techniques that change the color of the OLEDs in televisions.
Rapidly advancing technology
Tattoo electronics is a field that is growing at an extremely fast rate. Previous iterations of tattooed electrodes have been able to perform diagnostic tests like electrocardiograms. There are so many advantages to this technology, as it is easy to apply and remove, and relatively inexpensive.
OLED technology was first seen in televisions around 20 years ago, but they have more recently become a common sight due to cost scaling. However, OLED technology inherently brings some benefits as it can be used on bendy, flexible surfaces, and they can also be made with liquid solvents. This means that they can be printed, and therefore can be manufactured to create unique, one-of-a kind OLED-based designs.
The combination of OLED technology and tattoo electronics is combining to create these new "smart tattoos" that are not just cool, but can actually make a difference in people's lives.