Protocol test solution developer Teledyne LeCroy Inc. has unveiled the quantumdata M42d video analyzer and generator as the industry's first Display Port 2.0 protocol test instrument.
The Display Port 2.0 standard provides for data rates up to 20 Gb/s per lane for an overall aggregate bandwidth of 80 Gb/s, going well beyond the Display Port 1.4 standard's aggregate rate of 32.4 GB/s. These data rates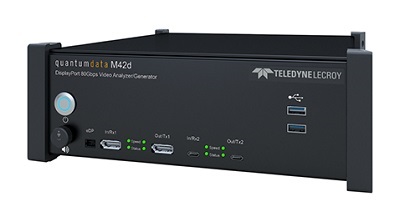 Source: Teledyne LeCroy Inc.support high screen resolutions of up to 16 k with a 60 Hz refresh rate, and as such are perfect for applications like augmented reality and virtual reality (AR/VR) and gaming. Designers and test engineers testing their products to ensure interoperability with other devices will benefit from the capabilities of a test solution like the quantumdata M42d video analyzer and generator.
Teledyne LeCroy's quantumdata M42d system supports both source and sink testing at the new data rates and line coding, as well as enhanced capabilities like link-training tunable PHY repeater emulation and panel replay. The capture analyzer functionality provides deep visibility into the main link, and the aux channel analyzer logs the aux channel transactions. All compliance test suites for Display Port 1.4 data rates are available now, and Display Port 2.0 Link Layer compliance tests will be added as they are defined by the committee. The M42d incorporates built-in passive probing based on Teledyne's LeCroy state-of-art T.A.P.4 technology.