Sager Electronics, a North American distributor of interconnect, power and electromechanical components and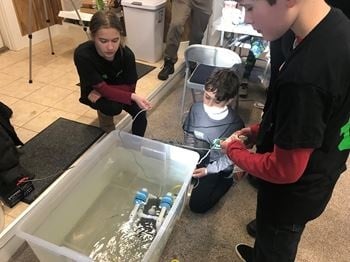 Source: Sager Electronicsprovider of value-add solutions, has announced its support for BoroBot, a local makerspace program, located in Middleborough, Massachusetts.
Makerspace programs advance teaching and learning that is focused on student-centered inquiry. BoroBot is a non-profit group of local volunteers advancing STEM (science, technology, engineering and mathematics) learning opportunities. The organization hosts free classes for residents under the age of 21 in areas such as computer-aided design, 3D printing, electronics and programming.
The Sager Electronics sponsorship initiative affords the opportunity for more children to participate in the program.
One of the BoroBot offerings is SeaPERCH. An innovative and educational underwater robotics program, SeaPERCH equips students aged 8 to 18 with the resources they need to build an underwater remote controlled vehicle and then compete in an underwater obstacle course. SeaPERCH participants develop their critical thinking, engineering and teamwork skills.
Learn more about the BoroBot program and SeaPERCH.