Researchers from the University of Southern California created a personalized learning robot, named Kiwi, for children with autism.
The robot is designed to assist children with autism spectrum disorder (ASD) who may experience difficulty learning new skills due to associated developmental delays or difficulty with social interaction and communication or behavioral challenges.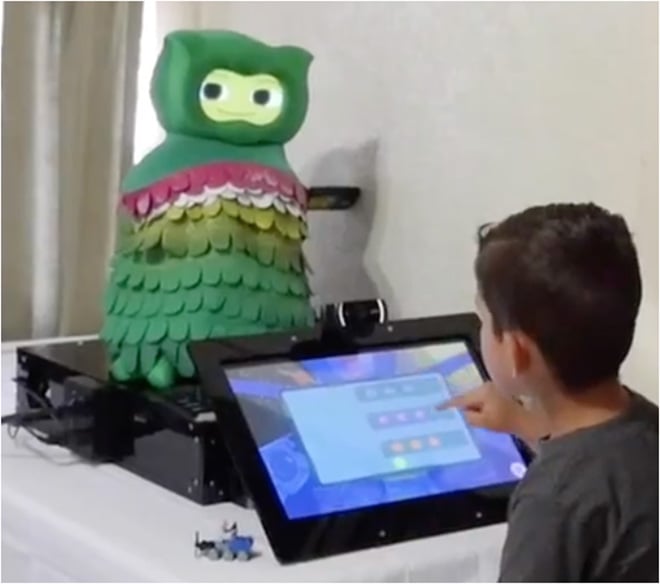 In this month-long, in-home study, child participants with ASD played math games on a touchscreen tablet, while a socially assistive robot used multimodal data to provide personalized feedback and instruction. Source: USC
Kiwi is a 2 ft tall robot dressed as a green feathered bird that offers children instructions or feedback as they play space-themed math games. Because human therapists are not always available or affordable, Kiwi aims to augment human therapy.
In a demonstration of the robot, Kiwi was given to 17 children on the autism spectrum, ages three to seven, for one month. Kiwi's feedback and the game's difficulty were personalized using real-time reinforcement learning and an algorithm monitored each child's math game performance. If a child solved a math problem correctly, Kiwi said "good job." If a child solved the problem incorrectly, however, Kiwi offered tips to solve the problem. Kiwi then adjusts the difficulty and feedback for future games, with the goal of maximizing difficulty while not punishing the child for making mistakes.
The study's results surprised the researchers. All of the participants had improved math skills and 92% had improved social skills. Researchers also found that engagement with the robot was highest shortly after the robot spoke. Likewise, participants were engaged 70% of the time when the robot spoke less than a minute and 50% of the time when the robot didn't speak for more than a minute. Caregivers only had to intervene when a child lost interest for a long period of time. The team said the robots will likely counteract long periods of disengagement.
The next step is to conduct larger scale studies with Kiwi, according to its developers.
A paper on Kiwi was published in Science Robotics.