For a long time, teachers, parents and researchers have known that social learning, or learning as a team with a peer, is helpful for students in developing skills and interests. Researchers have found that the child's peer doesn't need to be human. Social robots can be just as effective at helping children develop reading skills.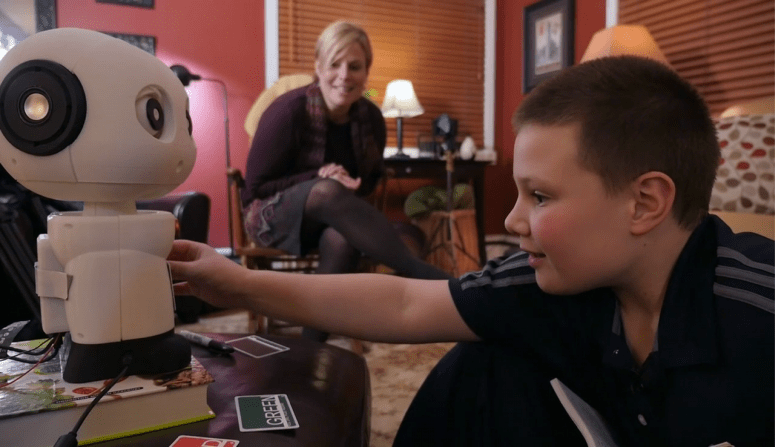 Researchers Joseph Michaelis and Bilge Mutlu believe companion robots like Minnie will soon be a fixture in homes, and they wondered if those robots could serve as social learning companions for kids. (Source: DIVISION OF CONTINUING STUDIES/UW–MADISON)
A team of researchers from the University of Wisconsin-Madison has developed a social robot to help middle-school kids with reading comprehension. They studied the robot in a two-week reading program where one group of children was given their own Minnie and the control group participated with traditional methods.
"After one interaction, the kids were generally telling us that, sure, it was nice to have someone to read with," says Joseph Michaelis, a UW-Madison graduate student studying educational psychology. "But by the end of two weeks, they're talking about how the robot was funny and silly and afraid, and how they'd come home looking forward to seeing it again."
During the reading, program kids were provided with 25 books that have varying levels of reading difficulty to choose from and they used Minnie as their reading partner. Minnie was programmed to be an active listener. The children read aloud to the robot, who uses facial expressions and preprogrammed comments to participate in active listening. Minnie's eyes portray the robot's reactions to the reading, like surprise, suspense or joy. The robot tracks the child's reading progress and even starts the reading session. Minnie can recommend books to the child based on an algorithm that allows the robot to understand the child's preferences and reading comprehension level.
"The goal is to try to make it as genuinely conversational as possible. If you were reading a book to me, and I was surprised, I'd say something like, "Wow, I didn't see that coming!" Michaelis says. "When a scary part of the book happens, the robot says, 'Oh, wow, I'm really scared.' It reacts like it would if it had a real personality."
The results of the study proved that robots can be just as effective as human partners for learning. Most of the children reported believing that the robot had its own personality. The group who worked with Minnie reported being more motivated to read than the group who used traditional reading methods. The Minnie group also reported that they felt they had a deeper understanding and remembered more about the books than the control group.
"We're getting more used to interacting with things that talk to us now, with Siri and Alexa and others. When they are behaving in a way that kind of reveals their technical flaws or limitations, you realize immediately you're not having an actual conversation," computer sciences professor Bilge Mutlu says, "The biggest shock in our study is that two weeks later, the kids are still relating to the character -- rather than saying, 'This is stupid. I'm not talking to your robot anymore.'"
The robot is still in the beginning stages, but researchers say that social robots like Minnie could be used in classrooms and homes within the next few years.
The paper on this research was published in Science Robotics.