Parents that have children with autism know that dealing with a child on the spectrum sometimes means dealing with that child wandering away or leaving a safe, supervised place.
A study recently found that 40% of all children with autism attempt to leave at some point. Technology vendor Vivint Smart Home is working to combat children wandering away with its Smart Home technology to help families better protect their children with autism in the home.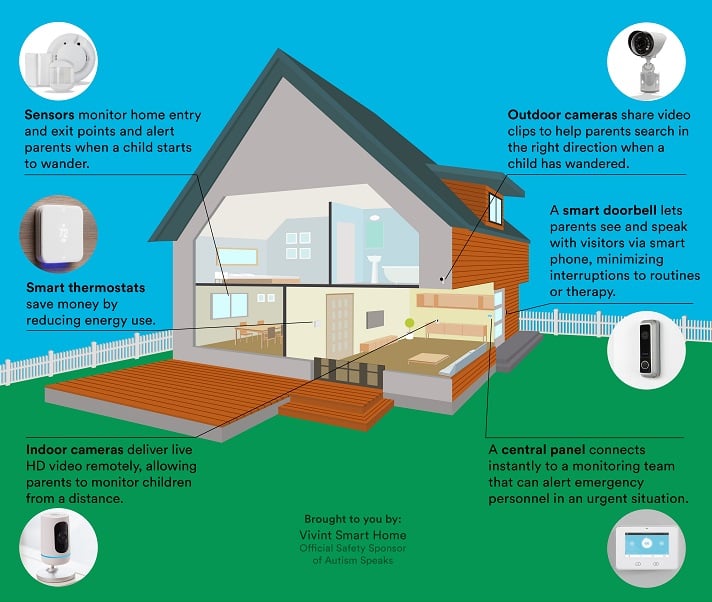 Using indoor and outdoor cameras, smart doorbells and sensors are just a few ways parents can keep track of their autistic child inside the home. Source: Vivint Smart HomeFor children with autism, Smart Home technology is designed to not only prevent strangers from gaining entry but also to alert parents when children attempt to leave the home unexpectedly. A central control panel will chime and send alerts to a parents' smartphone when an entry door, garage door or window opens. If a child still manages to leave the house, HD video from a doorbell camera or an outdoor camera can help start the search for the child in the right direction, Vivint says.
Smart Home technology also offers parents relief from having to provide constant supervision of an autistic child by using indoor and outdoor cameras to monitor a child in a safe place, such as a backyard or a separate part of the house. This not only provides an additional way to monitor children but also promotes a sense of independence in children.
The same study found that 43% of parents reported losing sleep over fear their autistic child would wander away during the night. Smart Home technology helps to reduce this anxiety by monitoring key exit and entry points. Vivint is providing technology and special pricing to bring peace of mind to the parents of the one in 68 children diagnosed with autism spectrum disorder.