When it comes to autism spectrum disorder (ASD), early detection is seen as a way to dramatically improve the benefits of treatment. Unfortunately in very young children it is often too hard to identify until later years.
In order to increase the recognition of ASD in young children, researchers at the University of Buffalo are working on a smartphone application that could help detect autism in children as young as two years old. The application tracks eye movement to determine if a child is showing signs of ASD in less than a minute.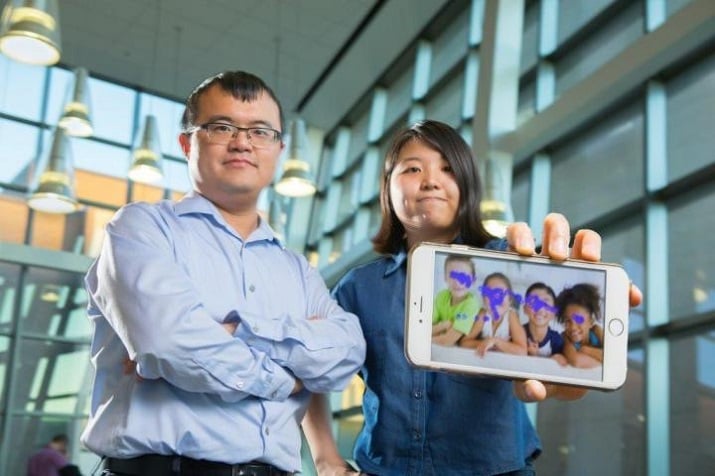 University of Buffalo researchers show a smartphone with the autism software application. The purple blotches show where a child looks to determine eye movement. Source: University of Buffalo "The brain continues to grow and develop after birth. The earlier the diagnosis, the better. Then we can inform families and begin therapies which will improve symptoms and outcome," says Michelle Hartley-McAndrew, clinical assistant professor of pediatrics and neurology at the Jacobs School of Medicine and Biomedical Sciences at the University of Buffalo.
Researchers say the earlier the diagnosis of ASD, the better the outcome for the child because therapy can be introduced at an earlier stage in order for autistic children to reach the same developmental milestones as children with typical development.
How It Works
The application, which could also be used on a tablet or PC, tracks eye movement of children while they are looking at pictures of social scenes, such as those with multiple people. The eye movement of a child with autism is different than those without the disorder. Researchers found the application had an accuracy rating of 93.96%.
The photos of social scenes were used to evoke dramatic differences in eye movements between children with and without ASD. Children with autism had scattered eye movement while looking at the photos; children without the disorder had a more focused eye pattern while looking at the scenes.
Although still in the prototype phase, the application could be a very beneficial tool for children that have short attention spans as it only takes less than a minute to test. Researchers also say that other considerations need to be tested as well, including the possibility of a child with Attention Deficit Disorder (ADD) affecting the outcome.