Heilind Electronics, a global distributor of electronic components, has added Amphenol Sine Systems' DuraMate AHDP circular plastic connectors to its selection of heavy-duty connectors.
Featuring lightweight thermoplastic housing, DuraMate AHDP is an impact-resistant, environmentally sealed, multi-pin connector enabling economical, quick-connect mating. The connector features a bayonet locking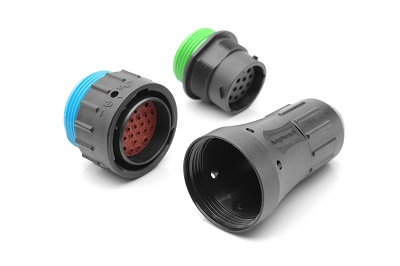 Source: Heilind Electronicssystem to withstand high vibration, as well as two backshell systems for strain relief and additional wire seal protection. It also offers IP67 and IP69K rated sealing for a robust barrier against lubricating oils, hydraulic oils and fossil fuels.
The AHDP series is built to maximize reliable mating and ease of use: In addition to being polarized, the connectors are equipped with an easy-grip coupling system and visual indicators.
This multi-pin connector is available in size 24 with 11 insert arrangements and size 18 with six insert arrangements.
Amphenol Sine Systems' DuraMate AHDP series is ideal for panel mount or in-line heavy-duty applications in the automotive, industrial and transportation industries. Specific applications include commercial vehicles, agricultural and construction equipment and marine installations.
Visit Heilind's website for more information about Amphenol Sine Systems' DuraMate AHDP circular plastic connectors.