Researchers from Texas A&M AgriLife developed a hemp scanner that can instantly distinguish if a plant is hemp or marijuana. The new hemp scanner fits in a police cruiser and does not damage the plant.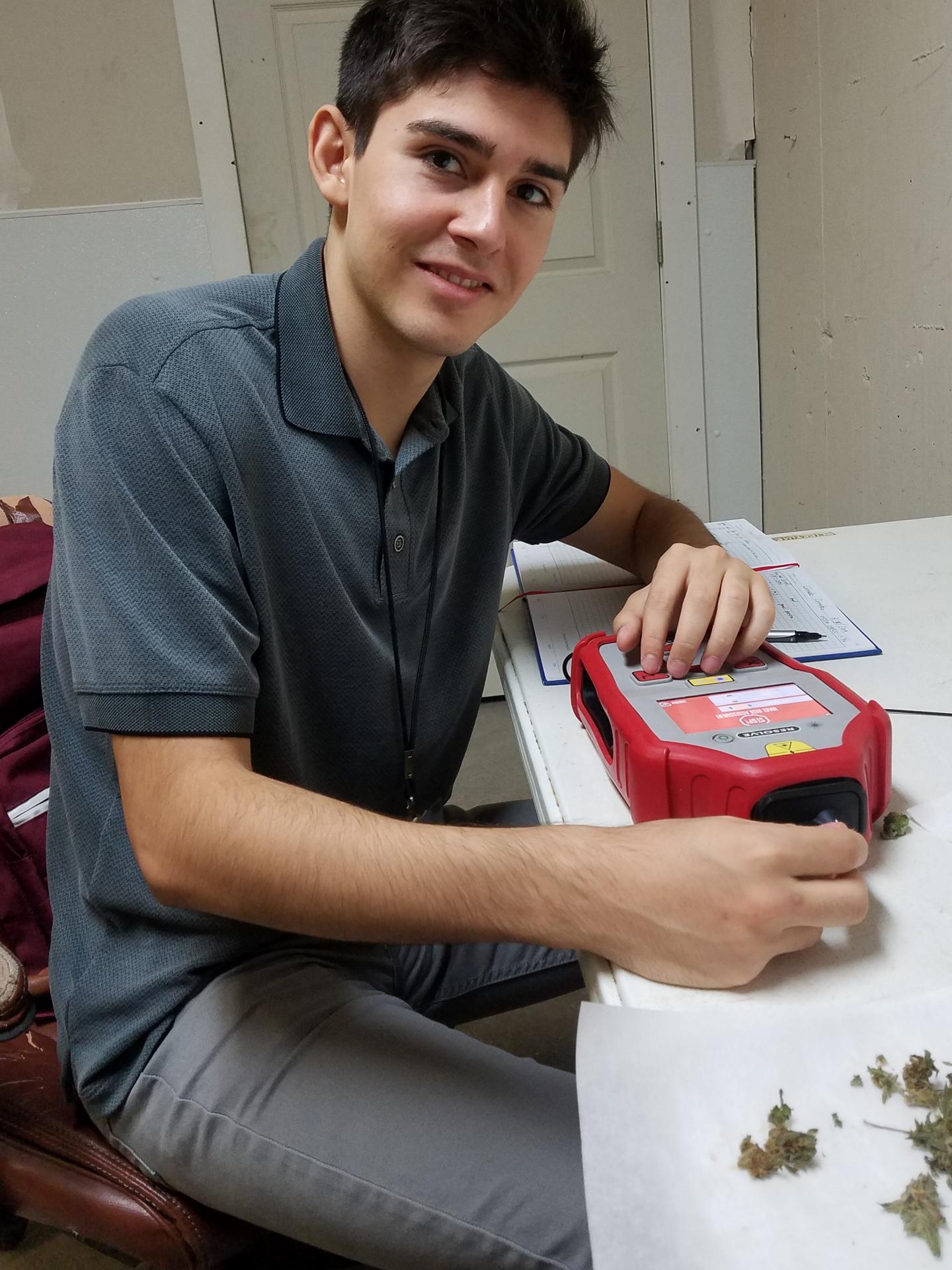 Lead author Lee Sanchez scans a hemp leaf for THC, demonstrating one of the dozens of scans he had to perform to perfect the team's method. Source: Dmitry Kurouski
In Texas, hemp is legal, while marijuana is not. In 2019, Texas lawmakers distinguished between hemp and marijuana-based on tetrahydrocannabinol (THC) levels. THC is the main psychoactive ingredient in marijuana. According to Texas lawmakers, a plant with less than 0.3% THC is hemp.
But proving that a plant is hemp or marijuana is not easy. Testing is lengthy and the plant is often destroyed in the process. In 2019, a truck driver was transporting thousands of pounds of hemp when police arrested him because they believed he was transporting marijuana. The driver was held in jail for weeks while he waited for test results to prove that his cargo was legal.
Hemp is a valuable plant. It is rich in compounds known for their medicinal properties and flavor. CBD hemp helps with pain, anxiety and depression. Hemp will be allowed to be grown legally in Texas in 2020. A device that differentiates between hemp and marijuana will help law enforcement and farmers.
To develop the device, the team used a technique called Raman spectroscopy. Raman spectroscopy is a harmless laser light that is used to illuminate structures within a material. Every material has a unique scan, like a fingerprint.
The team created a way to scan marijuana and hemp to search for patterns in the Raman spectra. The statistical analysis method found in seven regions in the spectra that differed slightly between marijuana and hemp varieties. The device was able to read seven regions to distinguish between hemp and marijuana with 100% accuracy. It could also distinguish between varieties of hemp and marijuana, which is important for farmers because there are thousands of varieties of both plants. Plant testing happened near Denver because marijuana is legal in Colorado.
The next step is to collaborate with the industry to mass-produce the hemp scanner. The team believes that mass production could happen in two to three years. The team also wants to create a similar test for CBD. Farmers want to test CBD levels simply because plants with higher CBD levels can be sold at higher prices.
A paper on the new device was published in RSC Advances.