California, like several other states, has legalized marijuana for recreational use, and it has mandated the use of a computerized system to track the plants from seed to business operations. Many states have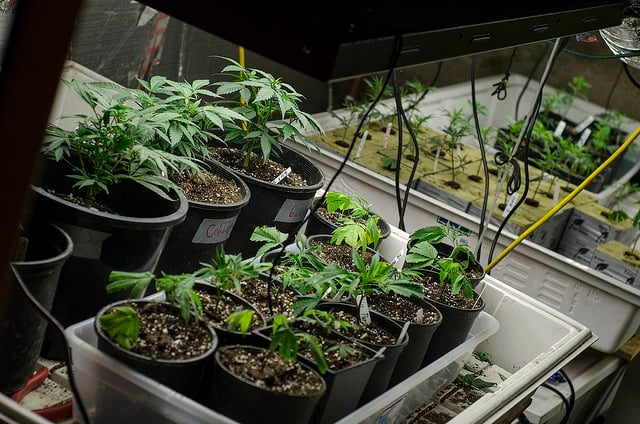 Many states that have legalized sales of marijuana have implemented supply chain software that tracks pot from seed to store. Source: Brett Levin/CC BY 2.0implemented those types of tracking systems, so the product can be tracked throughout the supply chain and won't veer off into the black market, thus maintaining traceability for tax revenue purposes. However, those digital systems have had troubles, and California is no exception.
The digital system California is using to regulate and track recreational marijuana sales just launched, but it isn't up and running everywhere in the state and likely won't be for a few months. Further, businesses must have employees trained on how to input data before the state can make it mandatory, and that process could take months. Until then, businesses are being tasked with manually filing invoices, harkening back to the days before bar codes and credit card readers. The process is onerous, and experts fear it could result in marijuana sales slipping into the black market as businesses try to circumvent all the paperwork involved.
CalCannabis Cultivation Licensing, is a division of the California Department of Food and Agriculture, which licenses and regulates the state's commercial cannabis cultivators. CalCannabis manages the state's track-and-trace system, which was supposed to launch in January. According to an FAQ on the Calcannabis site, the tracking system will provide "data points for the different stages of commercial activity, including, but not limited to, cultivation, harvest, processing, distribution, inventory and sale." And, importantly, the system will help the state keep track of taxes related to the sale of marijuana. The industry is expected to generate $1 billion in tax revenue annually. Every moment that sales are underreported is a significant loss in the state coffers — which was a big reason California made recreational pot use legal.
California businesses holding annual licenses will be required to use the tracking system, but those issued so far to growers and retailers have been temporary, and they "are not required" to use the system. That will change once the system is working and the licenses become permanent.
California is not the only state feeling some digital sting in the pot trade. On November 1, Washington state had planned to switch to a new software vendor for managing the state's seed-to-sale database; however, the new vendor didn't meet its deadline in setting up the new database. Simultaneously, the previous vendor refused to extend its contract. Washington's Liquor and Cannabis Board had to create and implement a contingency plan the last week of October, explaining how the state was going to track future cannabis sales.
The challenge for the businesses is that states will still hold the sellers responsible for tracking all of their products. Failure to adhere to traceability laws often results in fines and could even lead to suspensions or revoking of licenses. Traceability rules will likely still be enforced even if it's not the business' fault it has no working traceability database at its disposal.