Absopulse Electronics has released the HVI 41R-F1, a 50W addition to its line of high input voltage railway quality DC-DC converters. The converter employs the latest silicon carbide semiconductor technology to deliver high conversion efficiency, high power density and a smaller form factor than similar designs with the same output power.

The HVI 41R-F1 converter operates from 750 V DC (525 V to 975 V DC), the traction voltage required for mass transit vehicles including trams, metros and light rail, mining locomotives and trolleybuses. It also incorporates input surge withstand capacity of 1300 V DC. The unit delivers 24 V DC/2 A regulated output. Custom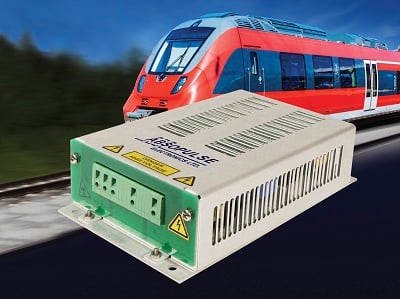 Source: Absopulse Electronicsinput/output values are available on request.

The converter is designed for an operating life of up to 30 years. The elimination of optocouplers from the feedback loop contributes to significantly lower component count and higher mean time between failures compared to conventional designs. The design is verified for 5600 V DC input to output isolation and production level testing is 5000 V DC input to output. Other electronic protection includes inrush current limiting, reverse polarity protection and output current limiting with short-circuit protection.

The HVI 41R-F1 meets the requirements of EN 50155 for electronic equipment used on rolling stock including EN 61000-4-2, EN 61000-4-3, EN 61000-4-4 and EN 61000-4-6 standards. Heavy filtering on the input and output ensures compliance with EN 50121-3-2.

The 50 W converter is cooled by conduction via baseplate. Additional cooling is achieved by natural convection through the cooling slots. This enables operation over a -25° C to 55° C temperature range for full specification. Wider temperature ranges are available on request. The unit is ruggedized to ensure immunity to shock and vibration. The internal boards are conformal coated for protection from moisture, humidity and airborne contaminants.