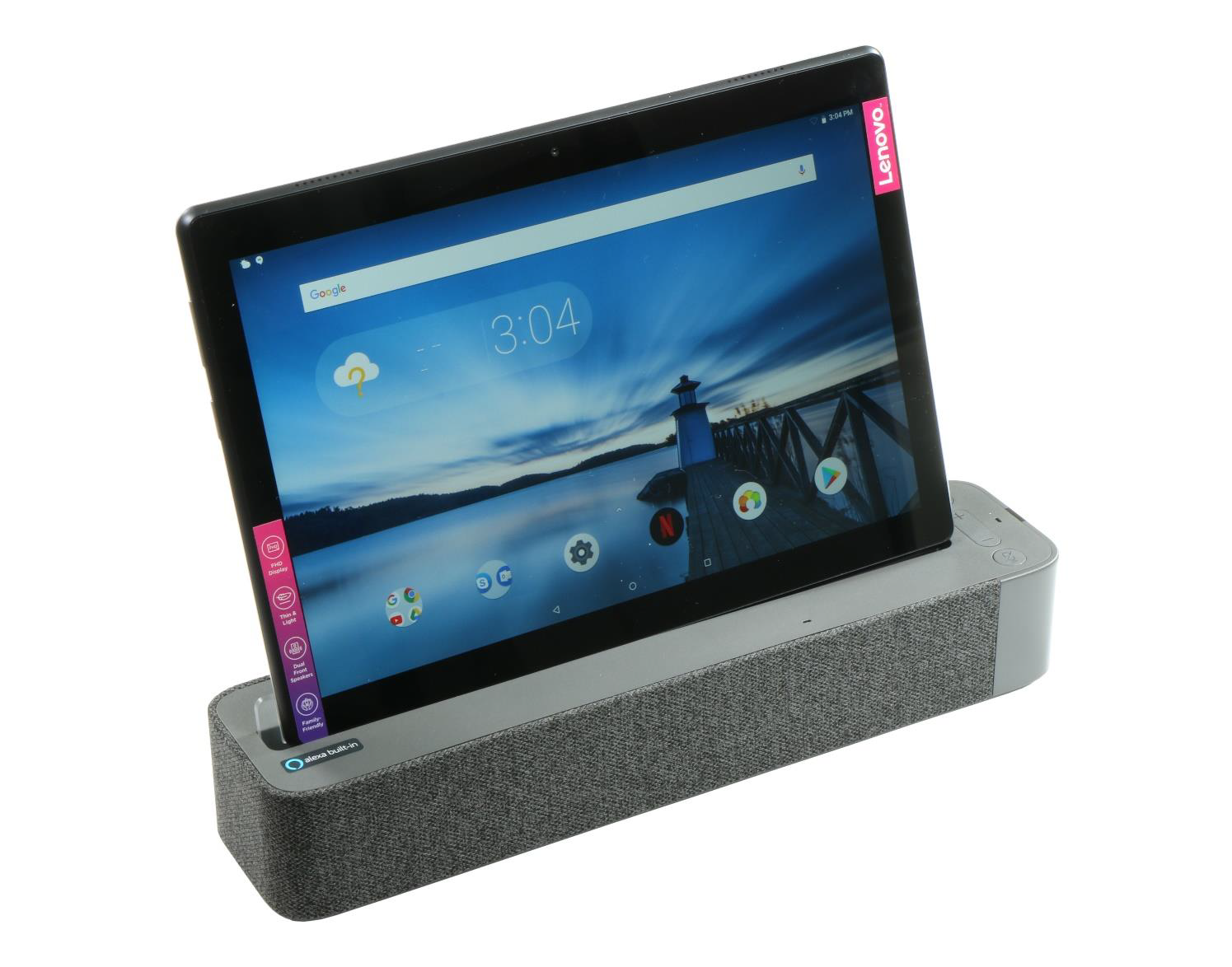 Lenovo Smart Tab M10 with Smart Dock. Source: IHS Markit
Lenovo's tablet-plus-dock M10 package features Android OS and Amazon Alexa functionality. In its review of the device, Digital Trends referred to it as "the Echo Show, but better," noting its mobile versatility when removed from the dock, which provides "loud audio that sounds good." A more robust version, the P10, is also available, though it is pricier.
The following is an overview of a teardown analysis conducted by IHS Technology Teardown Services.
Summary points
Qualcomm Snapdragon 450, Octa-Core 1.8 GHz, SDA450
10.1 in thin-film transistor (TFT)-LCD, 1,920 x 1,200, with on-cell touch
2 GB LPDDR3 synchronous DRAM, 16 GB embedded multi-media controller (eMMC), NAND Flash
Android OS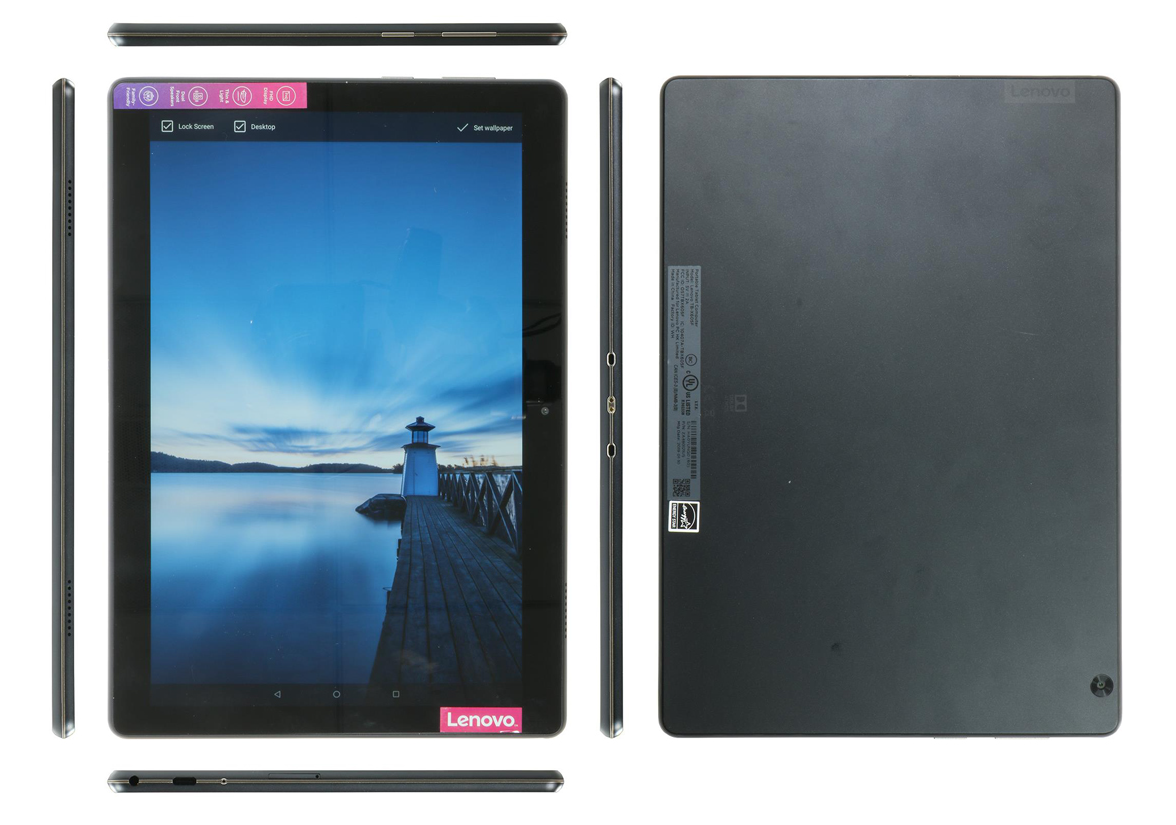 Lenovo Smart Tab M10. Source: IHS Markit
Target market: Mass market
Released: January 2019
Pricing: MSRP $199.99
Availability: Worldwide
Total manufacturing cost: $124.08 (including direct materials and manufacturing)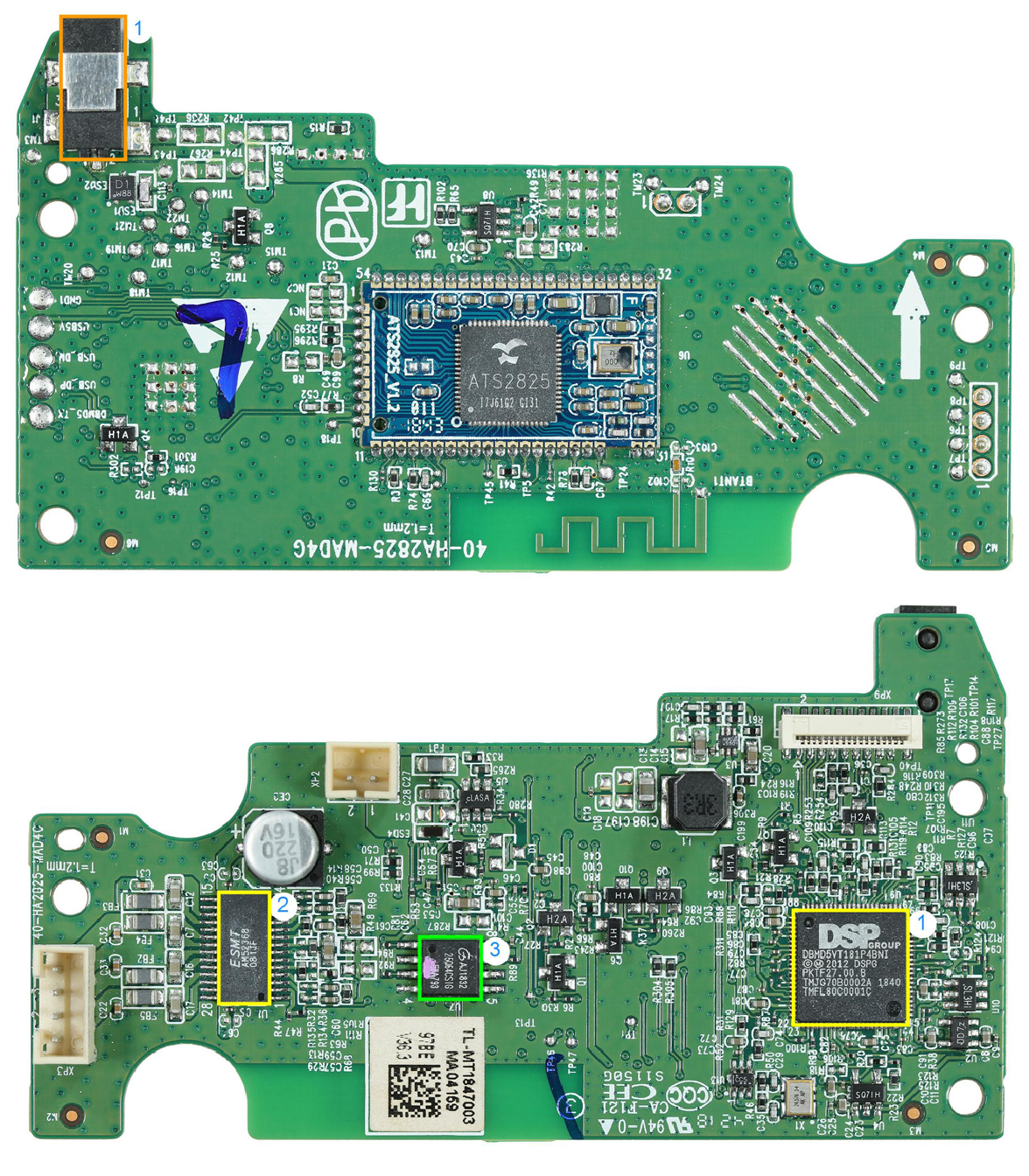 Lenovo Smart Dock interface PCB (top and bottom). Source: IHS Markit
Top
1. Jack, DC power inlet, right angle, with metal shielding functional areas
Bottom
1. DSP Group Inc., DBMD5VT181P4BNl, audio system-on-chip, voice control
2. Elite Semiconductor Memory Technology Inc., audio power amplifier
3. Gigadevice Semiconductor Beijing Inc., GD25Q64CSIG, Flash, NOR, 64 Mb, SPl, 120 MHz
Major components

10.1 in diagonal, TFT-LCD, amorphous silicon, IPS, 1,920 x 1,200, on-cell touch, 150 g - Manufacturer: BOE Technology Group Co. Ltd. - Manufacturer part number: TV101WUM-LL2 - (Quantity: 1)
Multi-chip package (MCP), 16 GB eMMC NAND plus 2 GB LPDDR3-1866 - Manufacturer: Samsung Semiconductor Inc. - Manufacturer part number: KMQE60013M-B318 - (Quantity: 1)
Eight-layer, FR4/RCF HDI, 2+4+2, lead-free, halogen-free - Manufacturer: Kunshan Huaxin Circuit Board Co. Ltd. - (Quantity: 1)
Battery pack, lithium-polymer, one-cell, 3.85 V, 4,850 mAh, 18.7 Wh, with flex PCB and board-to-board connector - Manufacturer: Amperex Technology Ltd. - Manufacturer part number: L18D1P32 - (Quantity: 1)
Apps processor, Snapdragon 450, Octa-Core ARM Cortex A53 1.8 GHz CPU, Adreno 506 GPU, 14 nm low power performance (LLP0 - Manufacturer: Qualcomm - Manufacturer part number: SDA450 - (Quantity: 1)
AC adapter, 12 V, 2 A, 24 W, 5 ft cord - Manufacturer: Shenzen Xinspower Technology Co. Ltd. - Manufacturer part number: A241-1202000U - (Quantity: 1)
Loudspeaker, full-range, 1.25 in diameter - (Quantity: 2)
Bluetooth module, V4.2, contains Actions Semiconductor ATS2825 - (Quantity: 1)
Enclosure, main, top, injection-molded glass-filled polycarbonate, painted, with 27 brass inserts - (Quantity: 1)
Primary camera module, 5 MP, backside illumination CMOS, 1/4 in format, auto-focus lens, 4P lens - (Quantity: 1)

Lenovo Smart Tab M10 main PCB. Source: IHS Markit
1. Qualcomm, SDA450, apps processor, Snapdragon 450, Octa-Core ARM Cortex A53 1.8 GHz CPU, Adreno 506 GPU, 14 nm LPP
2. Samsung Semiconductor Inc., KMOE60013M-B318, MCP, 16 GB eMMC NAND plus 2 GB LPDDR3-1866
3. Qualcomm, PM8958, power management IC
4. Memsensing Microsystems Co. Ltd., MSM381A3729Z9BM, microphone element, MEMS, analog
5. Qualcomm, WCN3680B, BT/FM/WLAN companion IC, IEEE 802.11ac, Bluetooth V4.2, FM radio transceiver, for Qualcomm Snapdragon
6. Qualcomm, WGR7640, GNSS receiver
7. Skyworks Solutions Inc., SKY85312-11, front-end module (FEM), BT/WLAN, 2.4GHz, integrated power amplifier, low-noise amplifier, with one single-pole, triple-throw and two single-pole, double-throw (SPDT) switches
8. Skyworks Solutions Inc., SKY85720-11, FEM, WLAN, IEEE 802.11 n/ac, 5 GHz, with integrated power amplifier, low-noise amplifier and SPDT switch
9. Abov Semiconductor Co. Ltd., A96T316, microcontroller, 8-Bit CISC M8051, 16 KB Flash, 2 KB SRAM, 10 I/0s, with integrated five-channel capacitive touch switch
10. Qualcomm, PMI8952, power management IC