The following is an overview of a teardown analysis conducted by IHS Technology Teardown Services.
Apple's iPhone X is Apple's first iPhone design to merge device and display in order to deliver the experience of being "all screen." Features include extreme-high-contrast OLED screen, wireless charging, water- and dust-resistance, face recognition technology and dual 12-megapixel cameras.
Summary points:
Apple application processor, 64 bit hexa-core, 10 nm FinFET, A11 Bionic
64GB NAND and 3 GB LPDDR4 SDRAM
5.85 in. AMOLED, GF2 Touch with 3D Touch, 2436 x 1125
TrueDepth sensing module, face ID
Target market: Mass market
Release date: October 2017
Pricing and availability: $999 USD, worldwide
Total manufacturing cost: $373.48 (includes direct materials and manufacturing)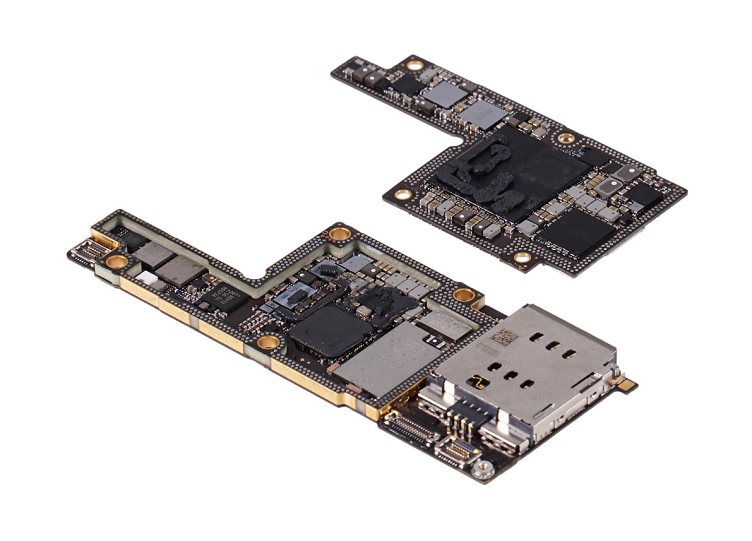 Apple iPhone X components. Source: IHS Markit.
Major components:
5.85 in. diagonal AMOLED, LTPS, 2436 x 1125, N/T, flexible display, pentile matrix, with 3D touch PCB and 15.4 g - Manufacturer: Samsung Display Co. Ltd - Manufacturer part number: AMB585NE01 - (Quantity: 1)
5.85 in Diagonal, GF2 Type, direct bonding, with Corning Gorilla cover glass, with integral flex PCB, with OCA - (Quantity: 1)
Enclosure, main, midframe, machined stainless steel, PVD coated and glossy, gold plated, with injection molded plastic, one-piece stamped stainless steel, w/ 17 threaded metal standoffs and 330 spot-welded points and 21 metal tabs - (Quantity: 1)
Primary camera module, dual, 12MP telephoto and 12MP wide angle, BSI CMOS, auto-focus lens, optical image stabilization, 6P lens (telephoto) + 6P lens (wide angle) - (Quantity: 1)
Apps processor, Apple A11 Bionic, 64 Bit hexa-core ARM CPU, triple-core GPU, 10nm FinFET, PoP - Manufacturer: Apple Inc. - Manufacturer part number: APL1W72 - (Quantity: 1)
SDRAM, LPDDR4, 3GB, PoP - Manufacturer: SK Hynix Inc. - Manufacturer part number: H9HKNNNDBMAUUR-NEH - (Quantity: 1)
Flash, NAND, 64 GB, TLC - Manufacturer: Toshiba Semiconductor - Manufacturer part number: TSBL227VC3747 - (Quantity: 1)
Baseband processor, multi-mode, multi-band - Manufacturer: Qualcomm - Manufacturer part number: MDM9655 - (Quantity: 1)
RF transceiver, multi-mode, multi-band, GSM/EDGE/CDMA 1X/EV-DO/TD-SCDMA/WCDMA/LTE, with GPS/GLONASS/BeiDou/Galileo, 28 nm - Manufacturer: Qualcomm - Manufacturer part number: WTR5975 - (Quantity: 1)
Bluetooth/WLAN module, contains broadcom BCM4357MKWBG, IEEE 802.11 ac, Bluetooth 5.0, MIMO - Manufacturer: Universal Scientific Industrial Co. Ltd. - Manufacturer part number: 339S00397 - (Quantity: 1)