Digital manufacturer Protolabs has introduced an all-new color-matching system into its plastic injection molding service. PolyOne's PINPOINT Express Color and Dosing System, featuring 3M precision dispensing and dosing technologies, allows Protolabs to develop custom colors on site, significantly reducing the time it takes to mold short-run plastic parts in precise colors.
When a part design is ready, customers can specify which Pantone number they require or simply provide a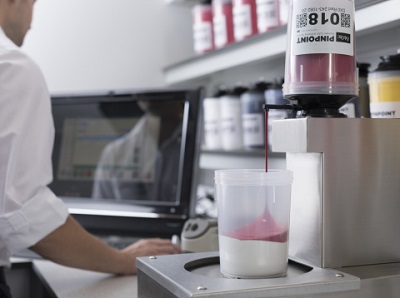 Source: Protolabssample part that can be scanned and color matched. Once a material is selected from 13 available resin combinations, PolyOne's PINPOINT system creates a liquid formula that is dispensed and mixed before moving to the injection molding press. The material is then fed through the doser and injection molded. The result is parts — in custom colors — in customers' hands within days versus weeks as it traditionally takes.
Protolabs, which specializes in on-demand manufacturing, has also recently added new injection molding capabilities to further its position as a single-source supplier from prototyping to production. Along with custom color matching, it has launched numerous secondary processes and finishing options to support true end-to-end manufacturing. These include pad printing and laser engraving, threaded inserts, mold texturing for mold-tech finishes and part assembly.
"Speed and flexibility — being able to deploy different manufacturing options — and a commitment to customer service, are the main reasons we use Protolabs," explained Andy Homyk, senior engineer at HemoSonics, a medtech firm that incorporated secondary processes to launch its new medical device in a fraction of the time traditional manufacturing would have taken.