Protolabs, a leader in technology-enabled manufacturing, announces that it has been recognized by Frost &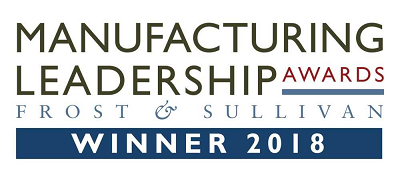 Protolabs was chosen as a recipient of a Frost & Sullivan Manufacturing Leadership Award for its continuous improvement initiative. Source: Frost & SullivanSullivan as a Manufacturing Leadership Awards winner for its outstanding achievement in operational excellence.
Protolabs' winning project was called Cellular Division — a continuous improvement initiative designed to position the company for further business growth, achieve more favorable manufacturing costs and ultimately provide more economic value to its customers. The project consisted of reorganizing the layout of its U.S. injection molding production facility and modifying personnel responsibilities to reduce wasted time and motion, as well as excessive materials during its molding process.
The Cellular Division project achieved significant improvement in productivity of direct labor, cycle time reduction of non-value-added activities and decreased material scrap. The improved operational efficiency will be critical as the company continues to scale its operations and grow its customer base with on-demand manufacturing, its latest injection molding service option tailored to low-volume production.
Protolabs will be recognized at the 14th Annual Manufacturing Leadership Awards Gala, which is to be held on the last day of the Manufacturing Leadership Summit, June 11-13, 2018, at the Hyatt Regency Huntington Beach Resort and Spa in Huntington Beach, CA.