A new programming architecture developed by Lockheed Martin will enable CubeSat operators to revise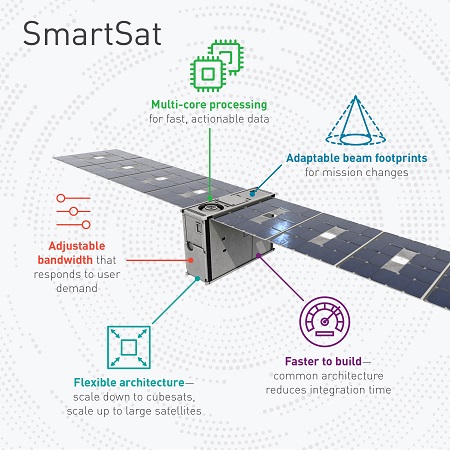 Lockheed Martin's nanosatellite bus, the LM 50, will host the first SmartSat-enabled missions set for delivery this year. Source: Lockheed Martinmissions while the satellites are in orbit.
The SmartSat technology is being integrated into over 10 satellite programs. Prototypes will be launched later this year on the first LM 50 nanosatellite buses. The system and 3D-printed spacecraft components are to be tested in two CubeSats comprising the Linus project. It will also be demonstrated in Pony Express, which is a number of six-subunit CubeSats that will test state-of-the-art networking technologies in low-Earth orbit, along with RF-enabled swarming formations and space-to-space networking in later missions.
SmartSat is based on a high-power, radiation-hardened computer produced by the National Science Foundation's Center for Space, High-performance, and Resilient Computing. A virtual machine monitor enables a single computer to run multiple servers in order to maximize memory, onboard processing and network bandwidth. The platform allows CubeSats to handle more data without putting too large a burden on ground station analysts.
The software-defined satellite architecture will enable satellites to reset themselves faster, diagnose issues with greater precision and back each other up when needed, significantly enhancing resiliency. Satellites can also better detect and defend against cyber threats autonomously, and onboard cyber defenses can be updated regularly to address new threats.