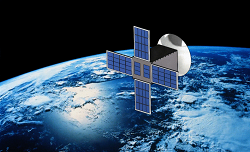 UF-RadSat will deploy its parabolic mesh high-gain antenna once placed in orbit. Source: NASA's Goddard Space Flight Center
CubeSats are nanosatellites consisting of standardized cubed units measuring 10 centimeters on each side and weighing as little as 3 pounds. The diminutive satellites offer inexpensive opportunities for small-scale research projects. Now NASA researchers are engineering a 12-unit CubeSat to interface with the agency's Space Network, which provides continuous communications services.
The University of Florida RadSat (UF-RadSat) is a collaborative design effort of NASA interns from several U.S. universities. The satellite will be launched in a geosynchronous transfer orbit to communicate with three Tracking and Data Relay Satellites (TDRS) and Near Earth Network ground stations, which provide direct-to-ground communication for CubeSats. This methodology provides almost constant data coverage, which should be of value to many future CubeSat missions.
NASA will also run two radiation experiments aboard the CubeSat. The first experiment, designed by a University of Florida team, will test a magnesium-gadolinium alloy with radiation-mitigating properties. The research will gauge the material's utility in reducing radiation risks for future space missions by trapping thermal neutrons.
Researchers from NASA's Goddard Space Flight Center in Greenbelt, Maryland, will also conduct an experiment to examine the reliability of power metal-oxide-semiconductor field-effect transistors (MOSFETs) under the harsh radiation conditions of space. MOFSETs are used in spacecraft power systems to amplify or switch electronic signals and can be damaged or destroyed by radiation. The experiment will contribute to assessing and improving MOSFETs on-orbit reliability and provide valuable insight into single-event gate rupture, a primary radiation-induced failure in MOSFETs.
NASA interns from the University of Maryland, College Park; Morgan State University; the University of Puerto Rico; the University of Maryland, Baltimore County; the University of Colorado; and the University of Florida collaborated on UF-RadSat.