Two small satellites are paving the way to high-speed data communications in space. NASA's Optical Communications and Sensor Demonstration (OCSD) project could lead to dramatic improvements in the speed, range and quality of data transfer from space to the ground. The expanded bandwidth could enable enhanced data collection capabilities for remote sensing satellites as well as very fast wireless mobile communication systems on Earth.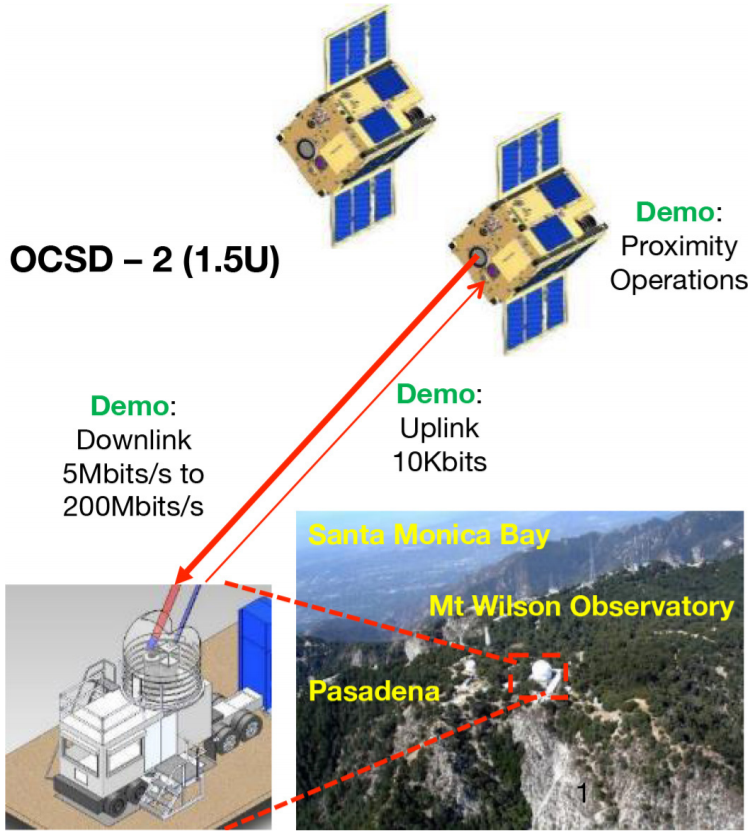 OCSD's CubeSats will aim their lasers at a telescope on Mount Wilson in optical communication tests that could reach 200 Mb/s. Source: NASALaser Communications
The OCSD project consists of a pair of 1.5-unit AeroCube CubeSats manufactured by The Aerospace Corporation, measuring just 4 in. x 4 in. x 6.7 in. (10 cm x 10 cm x 17 cm) and weighing approximately 5 lbs (2.5 kgs) each. The two spacecraft are equipped with laser optical communication systems that have the potential to achieve data rates of 200 Mb/s — 100 times faster than current top-of-the-line CubeSat communication systems.
Launched on November 12, 2017, the two CubeSats will execute a range of operations, including aligning their laser transmitters with ground stations on Earth to send data over optical links as well as performing proximity operations to demonstrate how small spacecraft can safely maneuver and operate in close proximity.
Another CubeSat preceded the later pair, launching on October 8, 2015, as a risk mitigation mission. The purpose of this earlier mission was to reduce the possibility of failure for the follow-up mission by checking out and validating the function of various equipment on the satellite, such as cameras, radios, power systems and deployment mechanisms.
The second mission will see the two CubeSats establish links with an optical telescope on Mount Wilson in Southern California to carry out a number of downlink trials assessing system performance under a variety of conditions, including various elevation angles, ranges, lighting conditions and atmospheric states.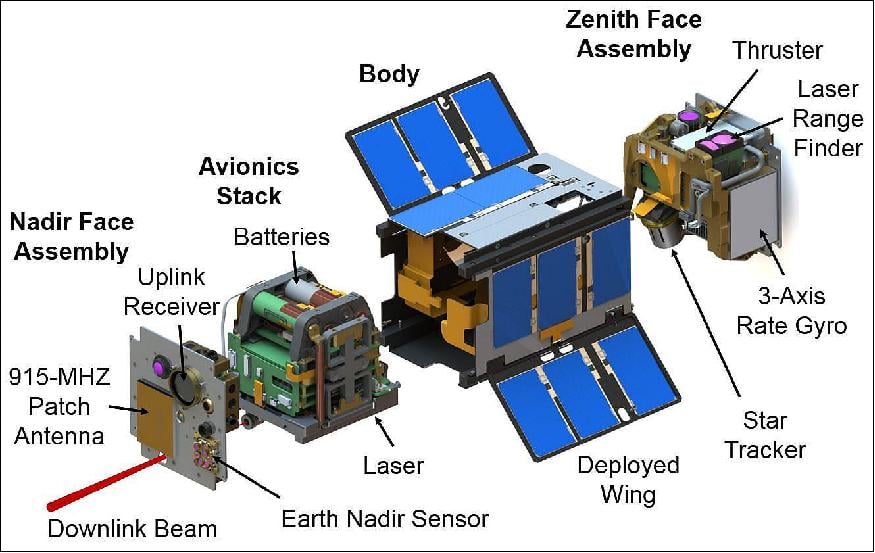 An exploded schematic view of an AeroCube-OCSD CubeSat. Source: The Aerospace Corporation
Lasercomm Pioneers
The OCSD mission isn't the first time optical laser communication has been carried out in space. Previous laser links have been deployed on larger satellites and the International Space Station, which have more room and power for traditionally bulky laser communication equipment. The Optical Payload for Lasercomm Science (OPALS) mission in 2014 successfully executed a laser downlink to a ground station on Earth with a "Hello, World!" video message in a 175-megabit communication.
But laser communications have never been attempted with a package as tiny as a CubeSat. The OCSD spacecraft contain transmitters that are a hundred times smaller than any previously flown. The miniaturization is possible because the laser is bolted directly to the spacecraft's chassis. Instead of requiring additional large pointing hardware dedicated to moving the laser, OCSD's laser is aimed by adjusting the orientation of the entire spacecraft.
Attitude control is achieved by using tiny star trackers to align the satellite with ground stations with an accuracy of 0.05 degrees — 20 times more precise than any other CubeSat. The spacecraft's orientation is modified with a simple water-based propulsion system, which provides thrust by heating up water and ejecting it as steam through a nozzle.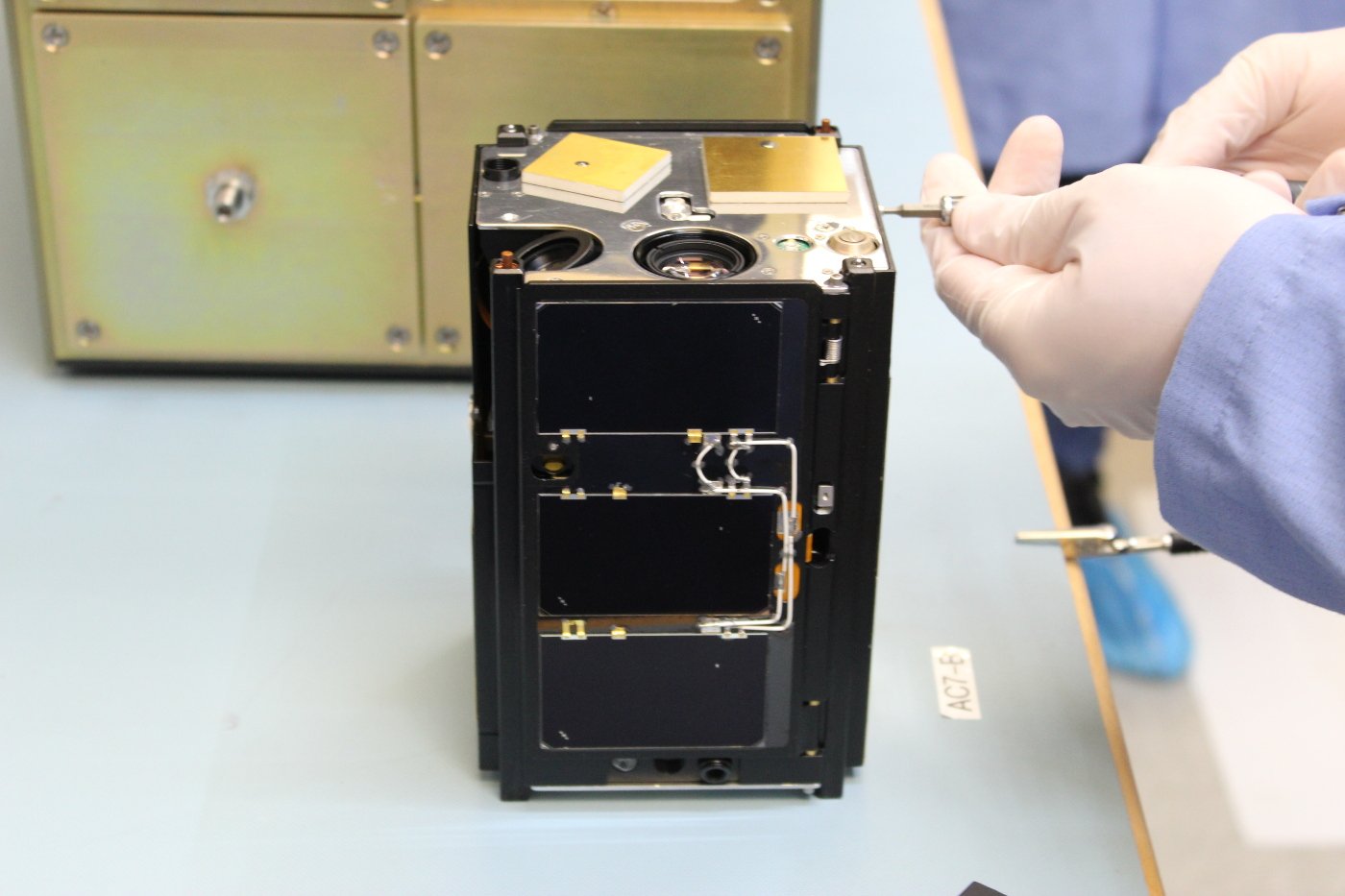 The OCSD CubeSats measure just 4 in. x 4 in. x 6.7 in. (10 cm x 10 cm x 17 cm) and weigh approximately 5 lbs (2.5 kgs) each. Source: NASAProximity Operations
In addition to high-speed optical data communications, OCSD will also demonstrate proximity operations by maneuvering the two spacecraft into orbits separated by a distance of only 650 ft (198 m). The pair are currently 100 miles (161 km) apart, but have fired their propulsion systems to begin the variable drag process that will close the gap. This method involves increasing or decreasing atmospheric drag on the spacecraft by changing their orientation. By raising drag on the trailing satellite, it will drop into a slightly lower orbit where it will travel with a faster speed to catch up to the spacecraft in the lead.
Once the satellites are within 3 miles (4.8 km) of each other, the pair is able to locate each other with laser rangefinders and close the rest of the distance with small propulsive orbit adjustments.
The proximity technology demonstrated by OCSD will enable the cooperative operation of multiple small satellites, close-up maneuvers of spacecraft for in-space repairs, and the connection of many small spacecraft together to create bigger structures or systems in space.