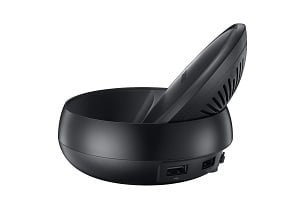 Samsung's DeX station. Image credit: Cypress Semiconductor
Cypress Semiconductor Corp. has integrated its USB-C technology into Samsung's DeX station for use by consumers to use their smartphones as a desktop computer.
The four-chip USB-C dock solution charges phones through the USB-C port and provides plug-and-play connectivity to a monitor, keyboard, mouse and other USB peripherals. The Samsung DeX allows users of Galaxy S8 and S8+ smartphones to port and use apps, review documents and set or check notifications in a desktop environment.
The Cypress four-chip USB-C dock includes two EZ-PD CCG3 CYPD2122 controllers for power delivery and smart device charging. One controller is used to power upstream to the smartphone while the other is used to control power downstream to peripherals. The CYP65632 USB 2.0 hub controller allows two USB devices and an Ethernet port to connect to the host smartphone. Finally the CY7C65210 billboard controller prevents connection failures due to mismatched capabilities between peripherals and the smartphone.