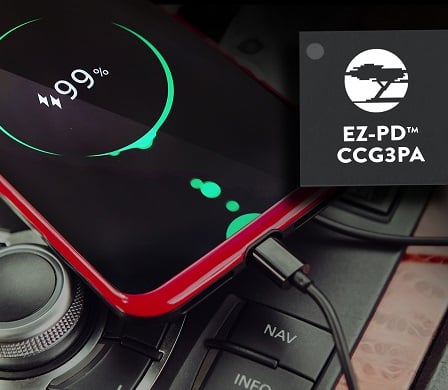 The EZ-PD CCG3PA USB controller. Source: Cypress SemiconductorCypress Semiconductor Corp. has introduced an automotive-qualified USB-C controller with USB Power Delivery (PD) for fast charging of portable electronic devices in vehicles.
The EZ-PD CCG3PA controller is a plug-and-play automotive charging device that supports USB 3.0 standard with programmable power supply (PPS), Qualcomm's Quick Charge (QC) 4.0 protocol and legacy charging standards. The controller also can be upgraded to comply with future standards as they evolve or become implemented, Cypress said.
The controller allows for load sharing between ports, cable compensation and output power throttling based on temperature and battery voltage. The one-chip controller minimizes bill-of-materials costs for USB-C power source products by integrating error amplifiers for constant voltage, constant current and PPS applications, Cypress said.
The USB controller features programmable overvoltage and overcurrent circuitry that protect against power overloads and other faulty operating conditions. The controller also integrates an ARM Cortex-M0 and 64 KB flash with read-while-write function for firmware upgradeability.
The EZ-PD CCG3PA controller is now sampling with production slated to begin in the first quarter of 2019.