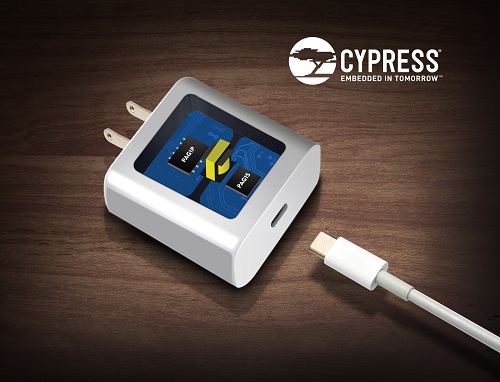 The PAG1 power adapters. Source: Cypress SemiconductorCypress Semiconductor Corp. has introduced a new USB-C power delivery (PD) family, which features an integrated USB controller to enable OEMs to build power adapters for the USB-C charger market.
The EZ-PD power adapter generation 1 (PAG1) family integrates the primary, secondary and USB PD controller components together. The devices enable the configuration of USB charger solutions to support a number of charging standards such as PD3.0 with PPS, QC4/4+, Apple charging, QC 3.0/2.0, Samsung AFC and BC v1.2.
The USB-C standard can both power devices as well as transmit data using the same cable and standard reversible connector. The devices power up to 100 W and allow for consolidation of different interfaces on the same port. Cypress said this makes multiple proprietary power adapters unnecessary, allowing users to reduce e-waste and wires.
IHS Markit forecasts the USB-C market to grow to just under 5 billion devices in 2021, up from 300 million devices in 2016 with a five-year compound annual growth rate (CAGR) of more than 70%.