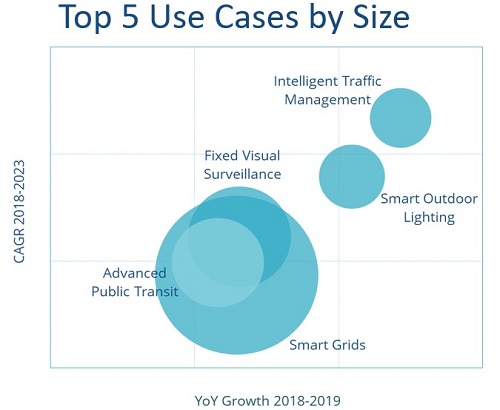 The top five use cases for IoT in smart cities. Source: IDC
According to market research firm International Data Corp. (IDC), global spending on smart cities initiatives will reach $189.5 billion in 2023. The top priorities will be driven by resilient energy and infrastructure projects followed by data-driven public safety and intelligent transportation. This will account for more than half of all smart cities spending by 2023, IDC said. In 2019, more than half of all spending in smart cities will come from fixed visual surveillance, advanced public transportation, smart grid, intelligent traffic management and smart outdoor lighting.
Meanwhile, the IoT industry is moving processing power onto the cloud and turning edge devices into I/O centers. Currently, the IoT has strong computing power in each edge device, including smartphones, laptops and even smart cars. As such, experts are looking at street lights as a possible means to distribute IoT connectivity across a city.
Cities are transforming to a digital environment to improve financial and social aspects of urban life, and these so-called smart cities are using the IoT as a platform for city monitoring, traffic control, environmental management, visual surveillance and eventually autonomous vehicle mapping and control.
However, smart city development has slowed because of the challenge of locating and protecting IoT equipment in an urban environment. Since street lights are common elements in cities, it opens up the possibility of Wi-Fi in locations all over the city where no connection currently exists. Street lights could be used to monitor air quality in different areas of a smart city, dim lights near homes at night or provide responsive environments for emergencies.
Combining both IoT features with 5G on street lighting would allow smart cities to collect data, process it on the cloud and pass commands back to municipalities in real time, said Wang Shen, senior analyst for LEDs and lighting at IHS Markit.
Using the combination of 5G and IoT in self-driving cars means that each vehicle could collect, transmit and receive data and commands and execute accordingly, allowing the cars to understand road conditions, traffic information and be aware of other vehicles.
"When base stations are installed on street lights, it will contribute greatly to outdoor coverage related things such as monitoring and traffic control," Shen said. "The key is what benefit it will bring in comparison with 4G LTE platforms. The new applications will surely take advantage of 5G's features such as super small latency and real-time analysis of HD-level video streams."
Signify, formerly Philips Lighting, is working on street poles that contain energy efficient LEDs and also have IoT functions and 5G small cells or base stations. The company is working with municipalities as well as telecommunications equipment providers to combine these features which might harness the fast speed of 5G with the core functions of the IoT.
"Street lighting and street poles used to be considered a mundane accessory that municipalities recognized as a liability," said Bill McShane, director of Americas of Smart Pole Ventures at Signify. "Now, street poles are becoming a vital asset of the smart city as well as a vital technology strength to telecommunications providers."
McShane said municipalities want the functions of IoT and next-generation wireless technology on street poles to meet the needs of residents in these smart cities, but the poles need to maintain the aesthetics to match a city's infrastructure.
Currently, street poles equipped with IoT functionality are being deployed to smart cities on a trial basis. Simultaneously, street lighting equipped with 5G modules are also being deployed as pilot projects. Both of these projects are expected to pick up steam in the foreseeable future as the technology evolves, McShane said.
"IoT in smart cities will develop neck-in-neck with the 5G rollout," McShane said. "Both of these technologies will be critical to the future and is why street lights are becoming a vital component to smart cities."