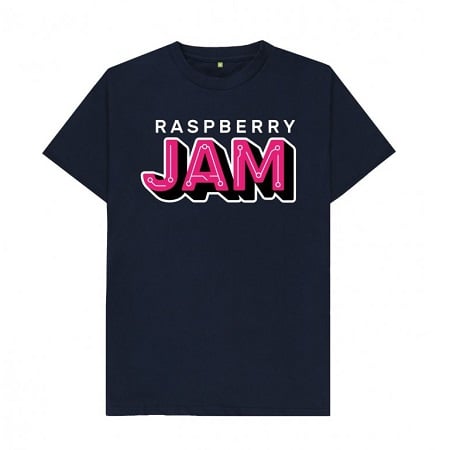 Raspberry Pi's birthday weekend will be celebrated March 2-3, 2019. Source: ModMyPi LTDTime flies: Raspberry Pi is about to turn seven years old. The Raspberry Pi Foundation marks the anniversary with an annual "Raspberry Jam" (see what they did there?), comprised of volunteer-run, community-focused events all over the world. In 2018, over 150 Jams took place within 46 countries spanning six continents.
This year's celebration is slated for the weekend of March 2 and 3, 2019. Those interested in organizing a Jam can submit events to the Jam map, and accepted events will receive a coupon for a birthday weekend kit and a trio of T-shirts like the one pictured here. The Foundation also offers a downloadable code that can be used to make an arcade-style button for a Raspberry Pi-powered tweeting photo booth, and this downloadable guidebook designed to serve as a practical guide for starting and running a Jam.
Click here for an up-to-date interactive map of Jam locations.