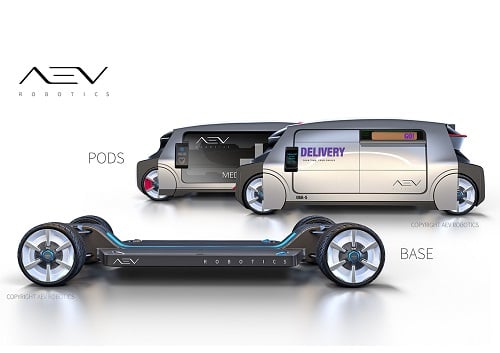 The MVS starts with a robotic base that connects to pods. Source: AEV RoboticsA new automotive company is debuting its modular vehicle system (MVS) at CES 2019, which is taking place this week in Las Vegas.
AEV Robotics has spent three years working on its prototype, the foundation of which is a robotic base that is digitally controlled via a programmable interface. Each base is lightweight, electric and multi-directional with four-wheel steering.
Connected to the robotic base are functional pods that can be used as delivery vehicles, ride-sharing cars, mobile healthcare vehicles, mobile markets, mobile storage and much more. AEV Robotics said each MVS is customizable with different ranges to meet specific requirements.
The company said it will offer developer-level access to the programmable interface later this year and will support providers looking to open new markets, technology or drive social change in cities.
(Click here to check out Electronics360's full coverage of CES 2019.)