New advances in autonomous mobility made a strong showing at CES 2019, the annual Las Vegas-based consumer electronics trade show. Some of the highlights included:
The Vision Urbanetic study presented by Mercedes-Benz Vans. According to the company, the concept enables "needs-based, sustainable and efficient transport of people and goods," and has the power to reduce traffic flows, relieve inner-city infrastructures and contribute to urban quality of life.
What may be most interesting about Vision Urbanetic is that it is not simply focused on a single autonomous vehicle; instead, it considers the overarching infrastructure. By analyzing real-time supply and demand, it could plan flexible routes for an autonomous fleet based on current transport needs. The concept also incorporates passenger transport through a people-mover module and freight transport through a cargo module, plus a near-silent electric drive that delivers zero local emissions.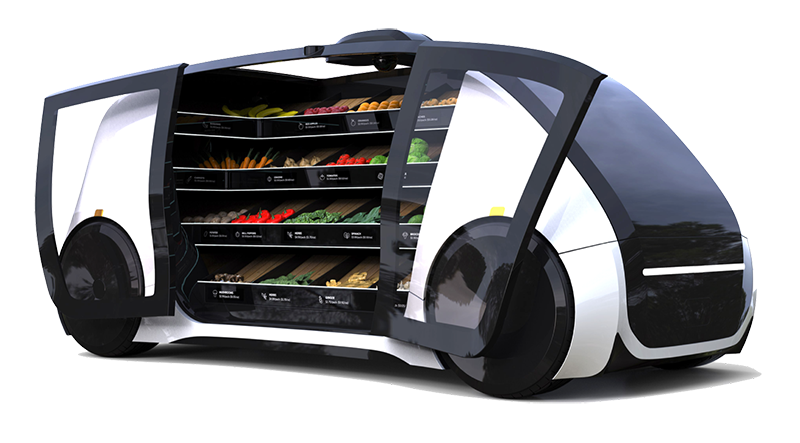 The Robomart is a self-driving grocery store. Source: Robomart
The aptly-named Robomart: a self-driving grocery store that users can summon with an app. Or at least that's the concept. The initial fleet, with a patent-pending autonomous technology solution, is slated to be launched in conjunction with supermarket chain Stop & Shop in 2019. Early pilots are expected to be remotely controlled by human drivers through a teleoperations system, before the transition is made to full automation. The solution also features a checkout-free "grab and go" technology that will track what customers select, then process a charge and send a receipt. Founded in 2017 by a trio of "serial entrepreneurs," Robomart aims to return to the era of door-to-door grocery deliveries — albeit in a wholly modern way.
A new powertrain platform for small electric vehicles from Panasonic, which the company said offers significant improvement over the model it brought to CES 2018: output has been doubled, while volume and weight have been reduced. The compact, 48 V platform consists of basic units that can be scaled up or down to meet vehicle specifications.
The company's SPACe_C small mobility vehicle, which is based on the new platform, was on display during CES 2019. Panasonic said that the vehicle's expected use include delivery of temperature-controlled food, serving as a corporate meeting zone, and becoming "the next hot retail pop-up store." The vehicle can also be separated into upper and lower structures: the upper to offer transport of people, products and goods, and the lower to contain the powertrain. The lower structure has been coined "e_Torta," to conjure the image of a parent turtle that carries a baby on its shell.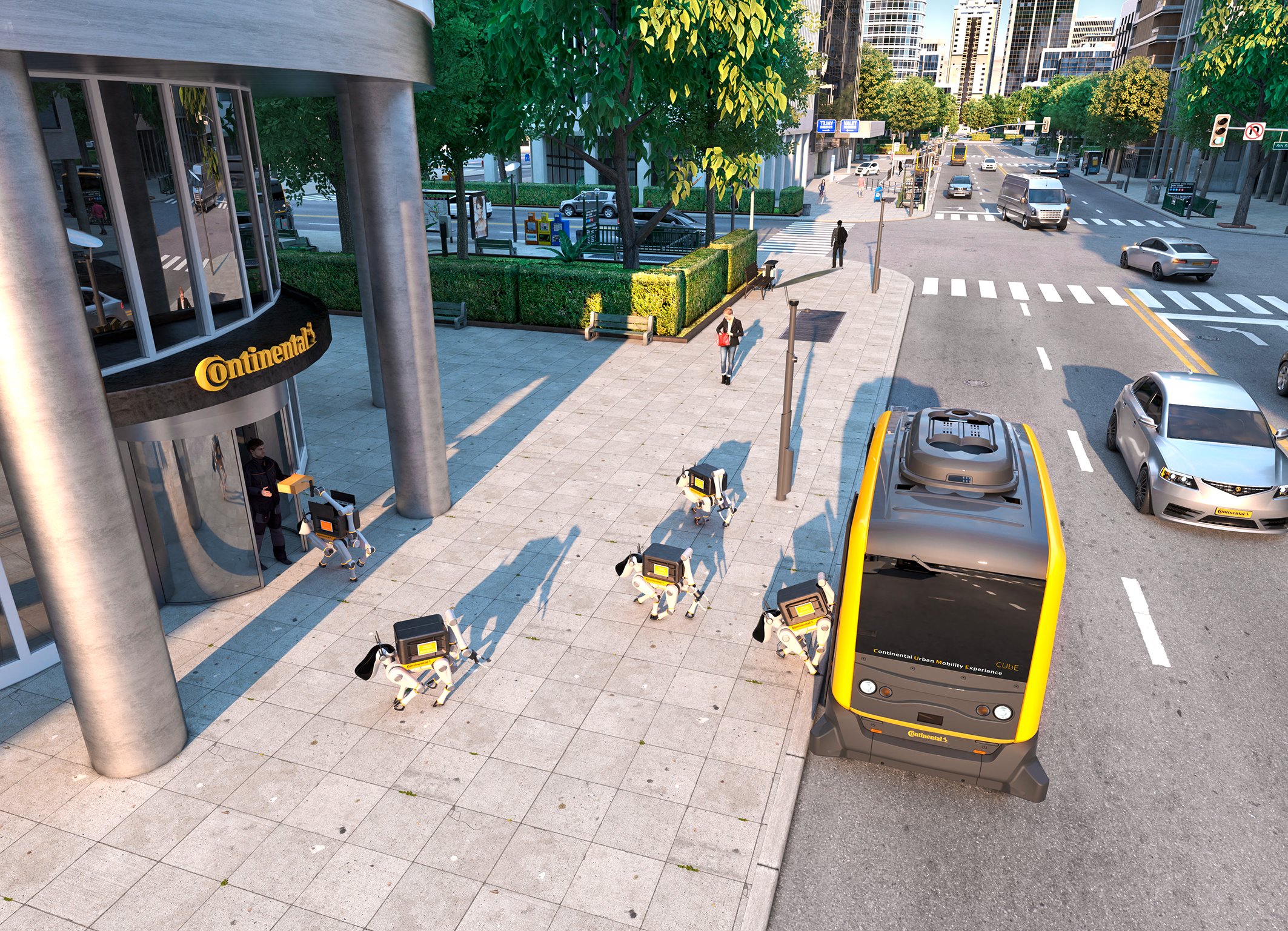 Delivery robots are dispatched from a driverless vehicle. Source: Continental
A goods delivery solution that combines autonomous shuttles with delivery robots, as envisioned by German automotive manufacturer Continental. The company frames the concept as part of a mobility value chain, in which a driverless vehicle such as its own CUbE (short for Continental Urban Mobility Experience) provides first- or last-mile mobility. The vehicle transports one or more dog-like robots charged with covering the last yards of the delivery logistics. Continental pointed out that the robots easily can make deliveries even when consumers are not physically available to receive them.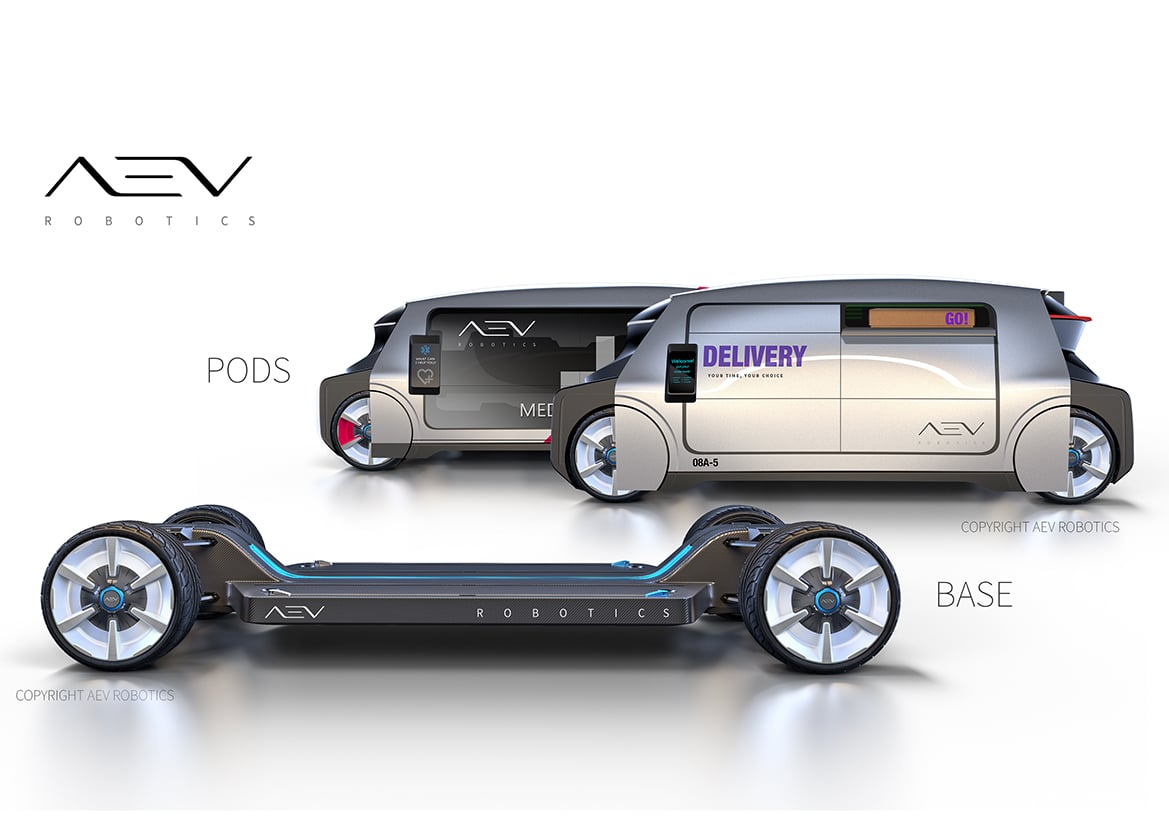 A robotic base can be connected to one of several functionally-designed pods in this modular vehicle system. Source: AEV Robotics
A modular vehicle system (MVS) from AEV Robotics. The company's CEO, Julian Broadbent, describes the system as a new vehicle built from a clean slate as opposed to a technological upgrade for a traditional car. The MVS starts with a lightweight, four-wheel-steer robotic base that can be digitally controlled through a programmable interface. Functional pods engineered to meet various business or urban planning needs can then be connected to the base. AEV Robotics intends to offer developer-level access to the programmable interface in 2019.
Kia's interactive "Space of Emotive Driving" exhibit: A range of new technologies developed for the "post-autonomous driving era," defined as a time when autonomous driving has become the norm. Included in the exhibit was V-Touch, a virtual gesture control technology that allows vehicle occupants to perform tasks such as checking schedules, opening emails and browsing the internet through simple finger gestures.
It can also be used to manage features such as lighting, HVAC and entertainment. But that was just the tip of the iceberg: Kia's approach also manifested itself as a system called Real-time Emotion Adaptive Driving (R.E.A.D.). The system is described as an AI-based cabin space optimized around human senses — a vehicle cabin space personalized through artificially intelligent analysis of the driver's emotional state. Sensors read facial expressions, heart rate and electrodermal activity; the interior environment can then be altered to create a "more joyful mobility experience." Joyfulness is delivered through accoutrements such as sounds and fragrances, as well as vibration seats that complement the frequencies of music being played. The seats also can be set to massage mode for increased passenger comfort, or used as a haptic enhancement to safety warnings generated by the vehicle's driver-assist systems.
This sampling represents just a few of the companies — from small startups to international corporations — that are raising the bar for autonomous mobility, a broad area poised to shape the future of public transportation. As one considers the range of innovation appearing on the technological landscape, the vision of "smart cities" shared by the most forward-thinking urban planners continues to come into clearer focus.