Figure 1. Structure of traditional form factor capacitors compared to a cable based capacitor (CBC). Source: Capacitech Energy
Capacitech Energy's cable-based capacitors (CBCs) are poised to impact the information technology (IT), telecommunications, power electronics, solar energy, electronic products, backup power supply and electrical energy storage markets.
Their thin, flexible wire-like shape allows their integration into systems and electronic product designs. For instance, a power cable can contain an energy storing CBC built inside it, which could enhance electrical vehicle or equipment performance while increasing battery life.
(For more about CBCs, read "A New Capacitor Form Factor: Cable Based Capacitors (CBCs).")
CBC pioneer Capacitech Energy was spun out of the University of Central Florida (UCF). Capacitech now partners with UCF, RTP Systems, and Sisom Thin Film to aid in the commercialization process.
Electronics360 interviewed Joe Sleppy, Capacitech Energy CEO, by phone and email exchange about the start of the company, its technology and the prospects for CBC. Joe Sleppy is an electrical engineer and entrepreneur. He started the company while getting an Electrical Engineering B.S. degree at University of Central Florida. In high school, Joe had already started a business, SleppSolutions, to commercialize a hands free suspension training system called Free Hand Fitness, which he designed and produced. In 2017, Florida Governor Rick Scott recognized Joe Sleppy, 21, with the Governor's Young Entrepreneur Award for his efforts in co-founding and leading Capacitech Energy.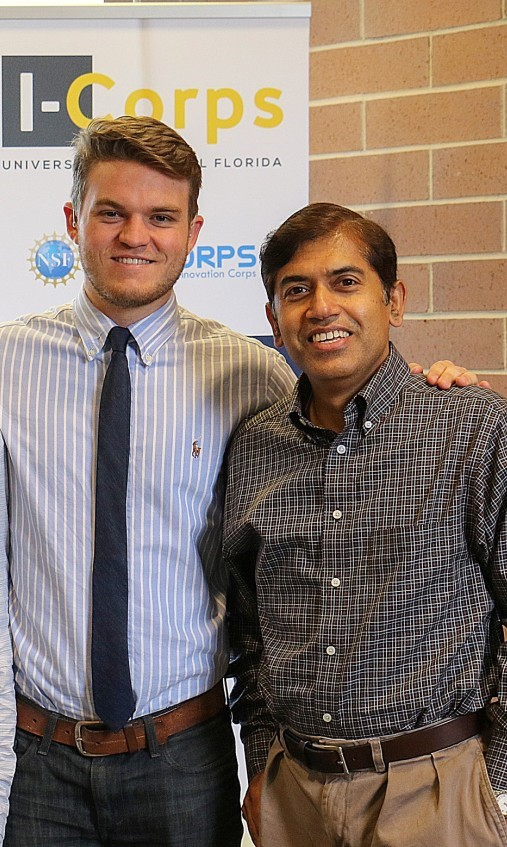 Figure 2. Capacitech Energy co-founders, Joe Sleppy and Dr. Jayan Thomas. Source: Capacitech EnergyElectronics360: What led to the formation of Capacitech? What inspired the creation of the CBC technology?
Sleppy: Capacitech was founded by Joe Sleppy and Dr. Jayan Thomas in 2016. Dr. Thomas invented the technology as a professor at the University of Central Florida and published a highly regarded academic paper. He was inspired by the millions of wires he observed in daily life and asked: "what if they stored energy?" This research eventually won the R&D100 award in 2015. We participated in I-Corps programs, UCF Joust, DoE MegaWatt, NSF SBIR/STTR program, Venturewell E-Team, among others since founding the company.
Electronics360: Can you briefly describe Capacitech's CBC technology?
Sleppy: The CBC is a cable-based capacitor (energy storage component). It is a wire that stores energy. The unique form factor offers a lot of advantages over traditional capacitor technologies. The CBC is thin, flexible, can be easily customized, and can be embedded inside existing wire infrastructure.
Electronics360: What are the key differentiators or compelling aspects of CBC technology (performance, design/system, manufacturing and logistics benefits) of CBC?

Figure 3. Advantages of cable based capacitor (CBC) technology. Source: Capacitech EnergySleppy: Because it is thin, it requires much less space on a PCB than a capacitor of similar size. The CBC can be connected on opposite sides of the PCB, can be bent around the back, coiled underneath the PCB and so forth. This means the PCB can fit into a smaller enclosure, or a lower profile enclosure as standard supercapacitor technology often requires a lot of surface area or height. CBC is thin and flexible so it can be connected inside of wire infrastructure (connected in parallel within DC power cords) to provide energy storage or filtering to the system. The CBC is particularly good at complementing batteries. For example: It will reduce the voltage ripple in solar power systems and reduces the number of cycles on the battery by minimizing fluctuations in the load or output of the panel.
This is true for backup batteries (UPS systems) for IT servers. Most outages last less than one second, which the CBC can cover for the battery.
In both scenarios, the CBC improves performance and extends the operating life of the battery reducing the cost of ownership.
CBC performance is proportional to length. It can be customized by cutting it at different lengths. This helps the distributor instantaneously respond to demand changes reducing inventory costs (a single spool of CBC wire requires little space on the shelf, but can be customized into many part numbers/performances) and lead times.
Figure 4. CBC embedded inside power cable for enhanced energy storage and battery longevity in solar and IT industry applications. Source: Capacitech EnergyElectronics360: What do you expect are the main markets and what are the applications within these markets?
Sleppy: We are initially targeting the IT industry and the solar industry where the CBC will complement batteries used in those systems. "The CBC is a Discrete & Distributed Battery Complement" provides additional details on the benefits of CBC in IT and solar applications.
Electronics360: What is your go-to-market strategy? Selling through distributors?
Sleppy: Yes, we are leveraging distributors and their networks to get the CBC to market.
Electronics360: Where is Capacitech with regard to funding, revenue, growth, number of employees? Are products on the market and available or still in development?
Sleppy: We are working on raising more capital to accelerate growth in 2019. Capacitech employs three people directly and a team of scientists at UCF via subcontract. The CBC is functioning, working technology. Small orders can be filled. We are currently building a production line to manufacture larger quantities of CBC.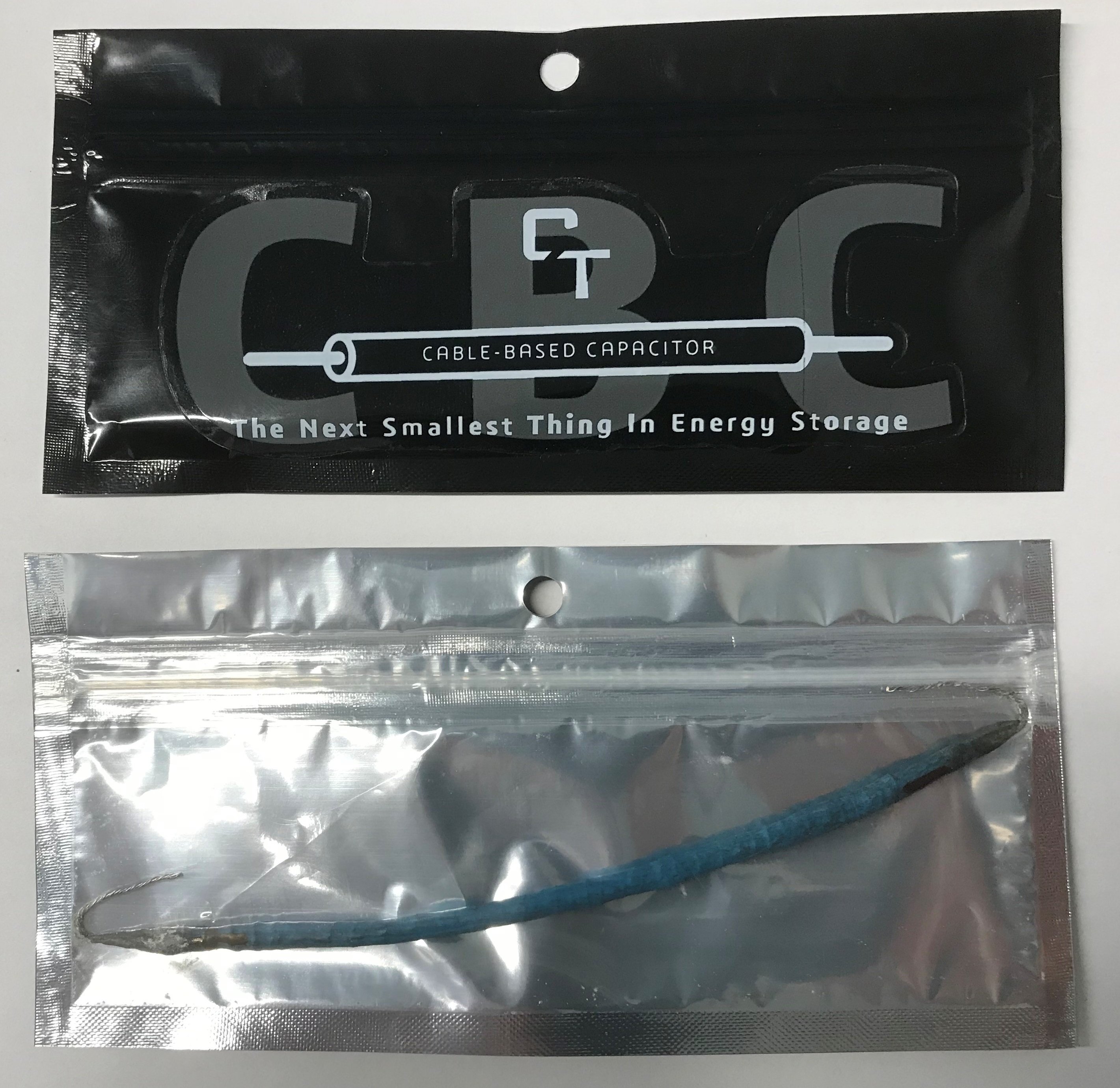 Figure 5. Evaluation samples of Capacitech's cable based capacitors (pre-production). Source: Capacitech EnergyElectronics360: Are there any plans to create evaluation kits or sample packs with different capacitors to allow engineers to evaluate CBCs in their circuit designs on breadboards, in CBC energy storage product development projects and in prototype electronic systems?
Sleppy: Evaluation kits can be purchased through our website - 10 cm CBC Evaluation Kits. They contain 10 cm of CBC in either 1.6, 3.2, or 4.8 V per CBC cell along with a datasheet and application guide. Evaluation samples can also be requested via email (joe.sleppy@capacitechenergy.com).
Electronics360: What is the price of CBCs compared to conventional capacitors?
Sleppy: Capacitor prices vary so much this is difficult to answer, but in general there is a slight mark up for innovation. The cost of the CBC is absorbed by the value added to product design and manufacturing such as lower inventory costs, smaller PCBs, reduced lead times, and easier assembly and inspection.
Electronics360: What are the materials of construction?
Sleppy: Like most capacitors, we have energy storage materials between two electrodes.
Electronics360: In a power cable energy storage application, the product may need to be flexed many times. Cable eventually fray or the insulation splits. What is the flex life of the CBC products for these applications?
Sleppy: The CBC has been bent over a thousand times without hindering performance. We have not seen flexibility to be a disadvantage yet.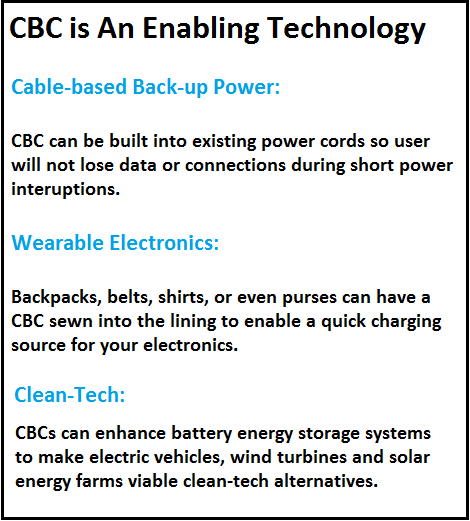 Figure 6. CBC is an enabling technology for wearable electronics, back-up power supplies and clean-tech systems. Source: Capacitech EnergyElectronics360: Let's say I am an electrical engineer designing a drone and I want to weave the CBC into the carbon fiber to conserve space and weight. Has the CBC been evaluated for lightweighting and efficient design applications? What is the specific capacitance (capacitance/gram or capacitance/kilogram)?
Sleppy: Specific capacitance is around 3.75 F/g (completed device including enclosure).
The CBC offers distributed and discrete energy storage. The CBC is about as lightweight as another capacitor of similar performance, but it can be distributed across a load far better than other capacitors. It can be built into the infrastructure or wrapped around a PCB for a more balanced weight distribution.
Electronics360: Would the CBC also provide EMI/RFI shielding if the enclosure had a layer of CBC for energy storage?
Sleppy: It could if you wanted it to be a shield to electronics. Wouldn't be the most efficient solution though. It would be similar to using a coaxial cable as a shield.
Electronics360: How are CBC rolls converted into discrete capacitors? Are there special tools or could an engineer just snip off to length for prototyping purposes? Having a roll of CBC for design work might be useful.
Sleppy: No special tool is needed. A generic pair of wire strippers will do.
Electronics360: What are the electrical contacts or end connector surfaces like?
Sleppy: We are using stranded wire on leads for our prototypes. Final products will have tinned leads.
Electronics360: What are the soldering recommendations? Any temperature limits?
Sleppy: We are not aware of any. We have not run into any issues. In terms of putting the CBC through a reflow oven, you wouldn't want to exceed the temperature rating of materials that enclose the CBC. I remember this being 200 to 250° F. Reflow ovens should be avoided if possible, to avoid complications.
Electronics360: Are other shapes feasible such as a flat rectangular CBC?
Sleppy: Yes, but additional shapes are not in our immediate plans. Other shapes are technically feasible and can be accomplished if so desired.
Electronics360: CBC rolls are currently sold only to distributors, but selling rolls directly to electronic manufacturing services (EMS) companies could provide additional manufacturing benefits. Is there any feasibility to the idea of creating an assembly line machine where the CBC cable is dispensed, cut to length for the required electrical specifications and then soldered or bonded to the board or via? In theory, a contract manufacturer could dramatically reduce their part inventories by replacing many different capacitors with a few rolls of CBCs. These "dispensable" CBCs could enable on-the-fly alterations to electronic product designs, bringing mass customization closer to reality.
Sleppy: We agree and will sell a spool of CBC to EMS companies. No automated cut/pick/place machine exists for the CBC yet. There will be in due time!
-------
Additional resources on CBC technology:
Capacitech Energy - CBC Technology
"Energy Storing Electrical Cables: Integrating Energy Storage and Electrical Conduction" (core paper)
"Energy storage wrapped up"
"Coil‐Type Asymmetric Supercapacitor Electrical Cables"