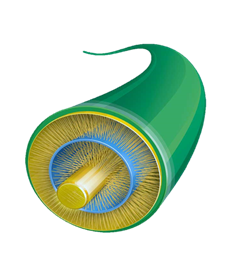 Figure 1. CBCs are the first capacitors built in the form factor of a wire or cable. Source: Capacitech
Flexible and customizable cable-based capacitors (CBCs) offer advantages for electronic design, PCB assembly and energy storage. CBCs, which were patented in the U.S. in 2017, are the first capacitors built in the form factor of a wire or cable. A CBC could also be called an energy storage coaxial cable (ESCC). The CBC functions much as conventional, rigid capacitors do: all of the traditional capacitor equations and characteristics still apply.
According to the patent, the CBC electrodes leverage the use of nanofeatures or nanostructures such as metal-oxide nanowhiskers (NWs) protruding from the electrode surfaces to enable storage at high energy densities. The exciting new cable-based capacitor technology grew out of research done by Dr. Jayan Thomas and Zenan Yu, both at the University of Central Florida.
Capacitech was established in January 2016 after founders Joe Sleppy, a UCF student and entrepreneur, and Jayan Thomas decided CBC technology was better off commercialized. The National Science Foundation (NSF) region I-Corps program and an NSF SBIR/STTR grant for $225,000 helped fund the development.
Using and Customizing CBCs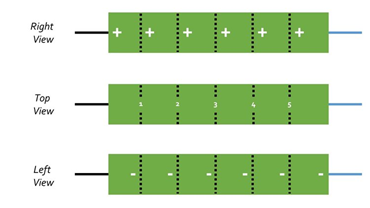 Figure 2. Cable based capacitor rolls have markings to indicate cells. The number of cells in a lengths determines electrical specifications (C, V and ESR). Source: Capacitech
Traditional capacitors are passive components that store electrical energy between two separated conductive plates. One plate acts as the positive electrode or conductor and the other acts as the negative electrode, as in a battery. The separation of the two plates creates an electric field.
An air gap, vacuum or dielectric material fills in the area between the plates. Adding energy storage materials between the plates further increases a capacitor's energy-storing ability. Capacitance is proportional to the surface area of the conductive plates and inversely proportional to the distance they are separated.
The CBC capacitor design differs from a traditional capacitor because the electrodes consist of two concentric plates rather than two parallel ones. Because it is radial rather than planar, the CBC's surface area is increased by pi (3.14) times. Thin and flexible cable-based capacitors retain an electrical charge well and have a leakage current of only 0.3 mA. They can operate in a temperature range of 10 to 65° C. CBCs respond to varied frequencies just like traditional, rigid capacitors.
In some applications, resistors are trimmed to adjust their resistance. Variable capacitors can have their capacitance altered as needed, but these are bulk products. CBCs are customizable capacitors or capacitors with capacitance, voltage and equivalent series resistance (ESR) "trimmable" in discrete steps. CBC technology enables component distributors to fulfill orders for capacitors with virtually any capacitance.
CBCs are sold by the spool to electronics distributors, and distributors can cut the CBC to the appropriate length to meet the capacitance specification or energy storage requirement of a particular request.

Figure 3. Example of cable-based capacitor length calculations to meet electrical specification requirements. Source: Capacitech
The proper length is determined by following the code in the datasheet which corresponds to cell numbers visible on the device's exterior insulator. Each CBC consists of a number of "cells" with each cell having specific voltage and capacitance values. The number of cells with a length produces the required capacitance (C), voltage (V) and ESR specifications. Capacitech provides device customization equations in the CBC datasheet. The voltage rating is determined by 1.6 times the number of cells (n). Capacitance of the cut-to-length CBC is the capacitance per cell divided by n. ESR is equal to the ESR per cell times n. A length calculation example for CBC customization is shown in Figure 3.
Design Flexibility Advantages of CBCs

Figure 4. The CBC being used to reduce a Dell laptop charger by approximatedly two inches through replacement of the traditional electrolytic capacitor initially specified. Source: CapacitechHigh power density CBCs or ESCCs can be used like supercapacitors or ultracapacitors for energy storage applications. They are a design element with unique advantages for battery chargers, power supplies, converters, power conditioners, flash systems, backup power systems (UPS), peak power assist, wireless alarms, IoT devices, energy harvesting and consumer electronics. The CBC can be built into existing power cords to provide increased energy storage in a very compact device. A cable-based UPS system could enhance rack-based IT systems as well.
CBCs high power density can help reduce printed circuit board size. The CBC can be easily bent without compromising electrical performance. In addition, the flexible nature of CBCs enables more compact and low profile electronic product designs because the CBCs can be folded down onto the board or bent around corners or other components on the board where rigid capacitors cannot be inserted. PCBs designed with CBC components have fit in cases where traditional capacitors could not.
Running CBCs along the backside of the PCB, between opposite sides of a board or by integrating CBCs into the connecting or power cables can save space and further reduce footprint size. CBCs flexibility can contribute to increased product robustness because CBCs are less likely to be damaged by bumps or impacts during end use.
A roll of CBC seems like a useful addition to an electronic design engineer's toolkit. The proper capacitors for a design prototyping could be cut to the voltage and capacitance required, which would eliminate the need to wait for completion of the ordering and delivery of parts with specific capacitance.
Improving Electronics Manufacturing with CBC Technology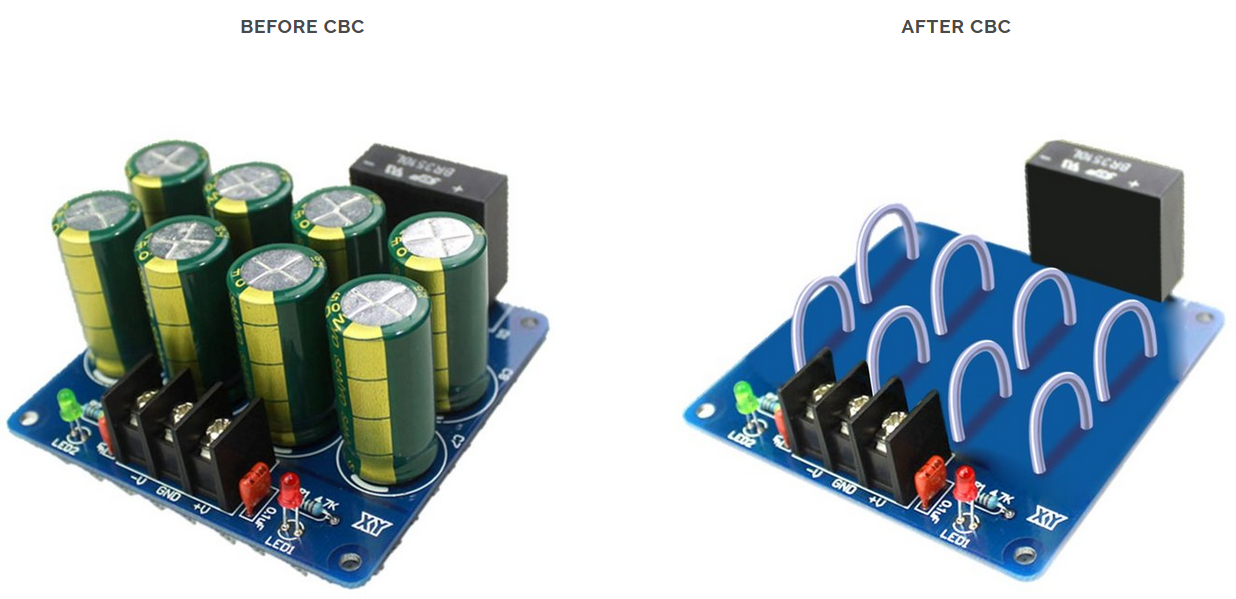 Figure 5. A printed circuit board redesigned to leverage CBC technology and enhance manufacturing productivity. Source: CapacitechAssembly of boards and electronics in general can be improved with CBCs because they use less space on a PCB, which can increase the speed of manufacturing and inspection processes. The increased space between components means solder joint touch defects will be less likely, improving yields. Visual and radiographic inspection is easier with the increased spacing as well.
A CBC could be bent for inspection or rework of a solder joint, while a rigid capacitor cannot. CBCs make programming and physically picking and placing components faster, which speeds up production run times. The flexibility can contribute to improved manufacturing robustness because CBCs are less likely to be damaged by bumps or impacts during handling and soldering. Lead times should be significantly reduced because the product is easily customized to application requirements, and turnaround and inventory replenishment times should be shorter.
What's Next
CBC rolls are currently sold only to distributors, but selling rolls directly to electronic manufacturing services (EMS) companies could provide additional manufacturing benefits. Imagine an assembly line machine where the CBC cable is dispensed, cut to length for the required electrical specifications and then soldered or bonded to the board or via. In theory, a contract manufacturer could dramatically reduce their part inventories by replacing many different capacitors with a few rolls of CBCs. These "dispensable" CBCs could enable on-the-fly alterations to electronic product designs, bringing mass customization closer to a reality.