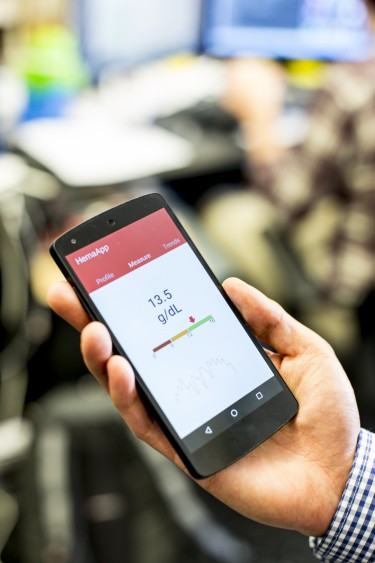 In an initial trial, HemaApp's results compared favorably to an FDA-approved medical device that also measures hemoglobin without using blood draws. Credit: Dennis Wise/University of WashingtonFor children and adults suffering with leukemia and other blood disorders, a trip to the doctor's office or public clinic to have their blood drawn and measured for hemoglobin levels is an all-too-frequent occurrence. In developing countries where anemia—a blood condition exacerbated by malnutrition or parasitic disease—is staggeringly common, the problem often goes undiagnosed.
Now electrical and computer engineers at the University of Washington have developed a smartphone application, called HemaApp, that measures hemoglobin and screens for anemia noninvasively. The development, researchers believe, is a step toward providing an inexpensive and safe way to help people with blood disorders manage their conditions.
In an initial trial of 31 patients, and with only one smartphone modification, HemaApp performed as well as the Masimo Pronto, the more expensive Food and Drug Administration-approved medical device that noninvasively measures hemoglobin by clipping a sensor onto a person's finger.
"In developing countries, community health workers have so much specialized equipment to monitor different conditions that they literally have whole bags full of devices," said lead researcher and UW electrical engineering doctoral student Edward Wang. "We are trying to make these screening tools work on one ubiquitous platform—a smartphone."
By shining light from the phone's camera flash through the patient's finger, HemaApp analyzes the color of the person's blood to estimate hemoglobin concentrations. The researchers tested the application under three different scenarios: 1) using the smartphone camera's flash alone, 2) using the flash in combination with a common incandescent lightbulb, and 3) using the flash with a low-cost light-emitting diode (LED) lighting attachment.
In initial trials, HemaApp's hemoglobin measurements using a smartphone camera alone had a 69% correlation to a patient's Complete Blood Count, or CBC, test; a 74% correlation when used under an incandescent bulb; and an 82% correlation using a small circle of LED lights that can snap onto the phone.
When used to screen for anemia, HemaApp correctly identified cases of low hemoglobin levels 79% of the time using just the phone camera, and 86% of the time when aided with other light sources.
Researchers pointed out that the mobile application is not intended to replace blood tests, which remain the most accurate way to measure hemoglobin. But early test results, from patients who ranged from six to 77 years of age, suggest HemaApp can be an effective and affordable initial screening tool to determine if further blood testing is warranted.

HemaApp uses illumination from the smartphone camera in combination with other light sources and algorithms that analyze the color of a patient's blood to estimate hemoglobin levels. Credit: University of Washington
The application holds particular promise in screening for anemia in the developing world. "Anemia is one of the most common problems affecting adults and children worldwide," said Dr. Douglas Hawkins, MD, a pediatric cancer specialist and Associate Division Chief of Hematology/Oncology at Seattle Children's Hospital. "The ability to screen quickly with a smartphone-based test could be a huge improvement to delivering care in limited-resource environments."