The quest to make wearable electronics less gimmicky and process intensive may have taken a giant step forward with the development of a new method for producing conductive fabrics using graphene-based inks.
The process, developed at the UK-based Cambridge Graphene Centre of the University of Cambridge along with scientists at Jiangnan University in China, is a low-cost, sustainable and environmentally friendly method for making conductive cotton textiles by impregnating them with a graphene-based conductive ink.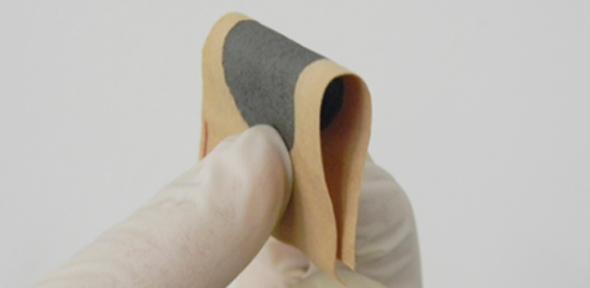 A new method for producing conductive cotton fabrics using graphene-based inks opens new possibilities for flexible and wearable electronics, without the use of expensive and toxic processing steps. Credit: Jiesheng Ren Graphene is a two-dimensional sheet of carbon atoms one atom thick. Its flexibility, optical transparency and electrical conductivity make it desirable for a wide range of applications, including wearable electronics.
The group's work is based on the dispersion of tiny graphene sheets, each less than one nanometer thick, in a water-based dispersion. The individual graphene sheets in suspension are chemically modified to easily adhere to the cotton fiber during printing and deposition onto the fabric, leading to a thin and uniform conducting network of graphene sheets.
This network of nanometer flakes is the key to the high sensitivity to strain induced by motion. A simple graphene-coated smart cotton textile used as a wearable strain sensor was shown to reliably detect up to 500 motion cycles, even after more than 10 washing cycles in a normal washing machine.
The use of graphene and other two-dimensional materials to create electronic components and devices integrated into fabrics and innovative textiles is at the forefront of new technical advances in smart textiles.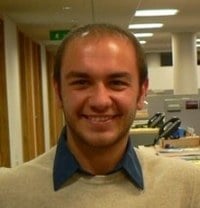 Dr. Felice Torrisi. Formulating printable graphene inks. Credit: Cambridge Graphene Centre Cotton was chosen for the conductive fabric in this work because of its widespread use in clothing and textiles due to its breathability, comfort and washability. These qualities make cotton an excellent choice for wearable electronics, according to Dr. Felice Torrisi, a lecturer in graphene technology and leading researcher in formulating printable graphene inks for flexible electronics.
Graphene-based inks are a better option for flexible electronics than other types of conductive inks, Torrisi said. "Other conductive inks are made from precious metals such as silver, which makes them very expensive to produce and not sustainable, whereas graphene is cheap, environmentally friendly and chemically compatible with cotton."
Moreover, while conventional wearable sensors generally rely on rigid electronic components mounted on flexible materials such as plastic films or fabric, the new method "allows us to put electronic systems directly into clothes," said collaborating researcher Chaoxia Wang of Jiangnan University. "It's an incredible enabling technology for smart textiles."