Leveling LLC has launched Beat Lips, a pillow that makes resting while wearing headphones comfortable. These pillows have been designed to form to any set of headphones to provide comfort while resting. The pillow eliminated pressure points that are created from leaning on headphones against a surface. This pillow is made for traveling and lounging.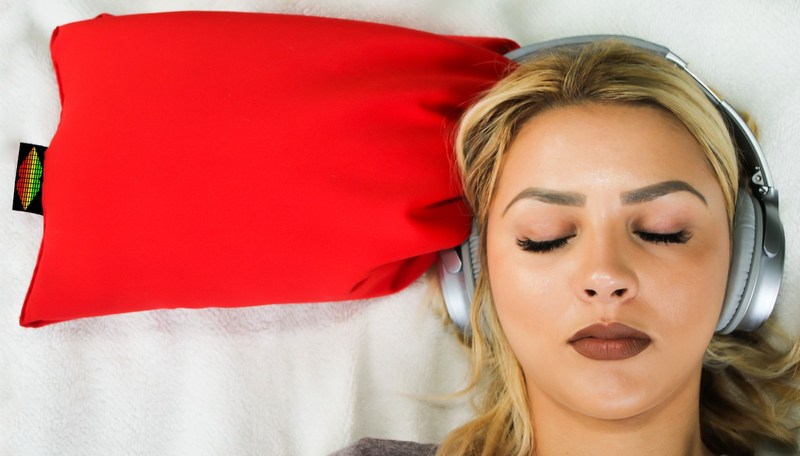 The Beat Lips headphone pillow (Beat Lips)
Beat Lips headphone pillows are designed with a gap in the middle to allow the speakers portion on any set of headphones to lay within it. The pillows are filled with microbeads to provide enough height so the headphones don't touch a surface. This enables the speaker portion of a headphone to float in the air so the pressure on your head is eliminated. The microbeads conform to any user's facial features to provide support.
Beat Lips headphone pillows use a Polyester/Spandex fabric that provides stretch and a smooth feel. The pillow has enough slack to wrap around any headphone stem so the pillow doesn't detach from the headphones. The pillows weigh less than 10 ounces and are about 13 inches long. They are compatible with both over-ear headphones and in-ear headphones. Earmuffs can even be wrapped with a Beat Lips headphone pillow.
These pillows are not restricted for headphone use. There are many ways to use a Beat Lips headphone pillow. The gap in the pillow can fit a user's wrist or ankle, to us as an arm pillow, baby feeder or foot cushion. Other uses include a vehicle headrest, seated cushion, leg pillow, backrest, tablet prop and a regular pillow.
Leveling LLC produced Beat Lips and the pillows are manufactured in the USA. Beat Lips first launched a successful Kickstarter campaign. The pillows will ship out before Christmas 2017. To learn more about Beat Lips, visit the site here.