Tyto Care, a telehealth company enabling on-demand telehealth visits and comprehensive medical examinations, has received CE Mark approval. The company's end-to-end telehealth solution is now available for European consumers and professionals.
CE Mark approval paves the way for the immediate European rollout of Tyto Care's comprehensive solution,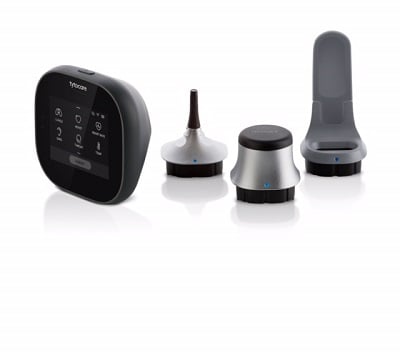 Source: Tyto Carewhich includes an otoscope, stethoscope, digital camera and telehealth platform. The rollout will take place via partnerships with leading telehealth companies, health systems and insurance providers.
Following its U.S. Food and Drug Administration clearance and 2017 product launch in the U.S., Tyto Care has gained significant traction with major U.S. health systems, telehealth companies, large private practices and employers. Tyto includes a hand-held modular examination tool to remotely examine the heart, lungs, skin, ears, throat and abdomen. Exam data can be shared with a clinician in real-time as a live video telehealth visit or in advance of a telehealth session ("exam and forward") for a remote diagnosis. The platform includes proprietary self-guidance technology that enables anyone to easily and accurately capture exam data remotely.
Tyto Care will be exhibiting at MEDICA 2018 in Düsseldorf, November 12 through November 15 in Hall 16, Booth 16G40.