If you've been wondering when the promise of telehealth technology solutions will take off, you may want to place a bet on 2013.
Thanks to overlapping market forces, the telehealth segment is poised to take a big leap this year, with worldwide device and service revenue predicted to grow 55 percent, according to IHS InMedica.
While glimmers of the market's growth potential have appeared in recent years – including a 22 percent jump in the use of remote patient monitoring systems in 2011 – there are several converging market factors that will put this young industry more definitively on the 2013 watch list, noted InMedica analysts.
Key drivers fueling telehealth's opportunities include:
The expected impact of U.S. federal healthcare reforms
The introduction of hospital readmissions penalties in the U.S.
Economic weakness, which continues to force governments, especially in Europe, to scrutinize healthcare budgets
The increasing need to cost-effectively monitor and treat post-acute patients, particularly with illnesses such as congestive heart failure (CHF), chronic obstructive pulmonary disease (COPD), diabetes, hypertension and mental health conditions
In addition to the much-anticipated phase-in of healthcare reforms related to the U.S. federal Patient Protection and Affordable Care Act (ACA) and the addition of many previously uninsured people to the system, the Center for Medicare and Medicaid Services began penalizing U.S. hospitals for excess readmissions in October 2012.
Shane Walker, associate director of consumer health and wellness devices at IHS InMedica in Austin, Texas, said these issues have many healthcare providers concerned about how they will effectively manage both changes in patient demand and new financial challenges.
And they are big challenges. U.S. healthcare costs in 2011 were $2.7 trillion, or 17.9 percent of the country's GDP, said Walker. And 2012 estimates indicate those costs, which have not yet been officially reported by government agencies, could climb to $2.8 trillion. "There is an overarching need to reduce healthcare costs," said Walker.
"In the U.S. right now, the big things are the implementation of the ACA and the creation of accountable care organizations," Walker said. Accountable care organizations (ACOs) are typically groups of doctors, hospitals and other healthcare service providers that come together to coordinate and deliver continuity of care to patients, particularly Medicare patients. "ACO's are just one solution – albeit an important solution – being proposed to reduce nationwide healthcare costs," he added.
In Europe, where social healthcare is more the norm, financially-strapped public health organizations and government agencies are considering options that could lower their costs, said Theo Ahadome, a senior analyst with IHS InMedica, based in London.
"Telehealth has gradually been picking up momentum, and there is more and more evidence of the benefits and outcomes," Ahadome said. "We're seeing today that the economic crisis has put more pressure on healthcare spending and people are looking for different ways to reduce their long-term costs of care. Telehealth is becoming one of those options."
InMedica defines telehealth as the remote exchange of physiological data between an at-home patient and medical staff at a hospital or a healthcare provider to assist in diagnosis and monitoring. While still a relatively small market, InMedica projects it will make significant inroads in the coming years as hospitals, insurance companies, medical providers and patients seek alternatives to costly traditional in-office or in-hospital care. In 2012, telehealth device and services revenue totaled $225 million; this year, Ahadome and Walker expect that number to climb 55 percent to $350 million, and reach $850 million by 2017.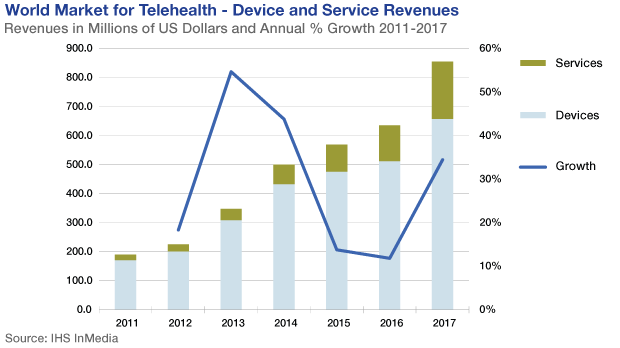 InMedica is forecasting a slight slowing in the growth rate during 2015 and 2016, despite a continual increase in the number of telehealth patients. The dip is caused by a sharp decline in device prices, which will occur as interoperability improves and lower costs reduce market entry barriers for new suppliers, said Ahadome.
"As these new vendors and new devices hit the market from 2015 onwards, this effect will be translated in the market and heavily felt as prices reduce drastically and competition increases," Ahadome said. "The growth rate will rise again in 2017 as the market stabilizes at the new price points and growth will be driven by strong growth in patient numbers."
In particular, growth in the number of patients being remotely monitored by their healthcare providers is expected for those with CHF, COPD, diabetes, hypertension and mental health conditions. These are chronic illnesses that present some of the greatest telehealth opportunities. InMedica reported in January and noted in its report, "The World Market for Telehealth – An Analysis of Demand Dynamics – 2012", that there were an estimated 308,000 patients worldwide being treated in 2012 via telehealth monitoring for these health conditions.
As healthcare providers strive to reduce hospital readmission rates and track disease progression, InMedica projects telehealth solutions will reach 1.8 million patients worldwide by 2017, a six-fold increase.
For telehealth technology and solutions providers – and electronics companies feeding into the market – the projected growth is welcomed news. Many companies have been waiting for the boom, and as broad social and financial changes play out – combined with growing, widespread acceptance of fitness and wellness-related mobile device apps and gadgets – some expect it could be only a matter of time before remote patient care evolves towards, say, a video conference with a doctor in a kiosk at a pharmacy.
Indeed, that's something HealthSpot Inc. is counting on. The Ohio-based company, which was founded in late 2010 and exhibited its tech-heavy telehealth station at the Consumer Electronics Show in January, will be rolling out its kiosk-style solution in some U.S. markets this year.
HealthSpot's stations integrate hardware, software and medical products to provide an interactive doctor-patient healthcare experience. "The trend is to have the patient be involved and empowered, and to be a part of their healthcare," said Lisa Maughan, HealthSpot's vice president of marketing.
Inside a HealthSpot station, you'll find everything from touchscreen monitors to a Bluetooth stethoscope to an otoscope fixed with a camera.
"Regulations are also changing, which is helping us move forward. And we are beginning to partner with some big companies," she said. HealthSpot counts the likes of Dell, Samsung, Logitech, Elo Touch Solutions, 3M Littmann, Welch Allyn, Salter Brecknell, Nonin, Foracare, Sometech and Goldine as technology partners.