New Yorker Electronics has announced the release of two new series of self-healing capacitors from ASC C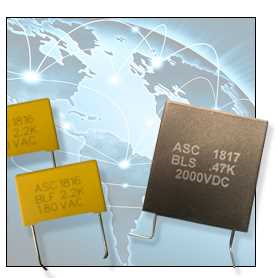 Source: New Yorker Electronicsapacitors. The new BLF (board level filter) and BLS (board level snubber) capacitor series consist of double-sided metallized polyester film electrodes and are non-inductive wound, yielding no inductance value.
BLS — Board Level Snubber Capacitor
The new ASC Capacitors BLS series has high-density packaging and is suited for high-frequency, high-pulse and high AC voltage applications. It has a uniform shape in a case that is not only flame retardant but also impervious to all known solvents.
The BLS has a dielectric strength of 160% of rated voltage for two seconds, tolerances between plus/minus 5% and plus/minus 20% and insulation resistances of C great than 0.33 µF, R greater than or equal to 30,000 MEG. OHM @ 20 plus/minus 3° C and C greater than or equal to 0.33 µF, RC greater than or equal to 10,000 MEG. OHM X µF.
It comes standard in voltages of 630 VDC (400 VAC), 1200 VDC (600 VAC), 1600 VDC (650 VAC) and 2000 VDC (700 VAC) with a capacitance range between 0.0022 and 3.3 µF. Custom dimensions are available upon request.
This line of snubber capacitors includes designs and features for a wide variety of applications including electronic lighting (car headlamp, ballast), switching spikes suppression in SMPS, snubber and SCR commutating circuits and high frequency and high voltage applications.

Source: New Yorker Electronics
BLF — Board Level Filter Capacitor
The new ASC BLF series is also a metallized polypropylene AC filter capacitor with non-inductive winding. It provides high reliability and enhanced self-healing characteristics with low losses and low ESR.
Like the BLS, the BLF has an operating temp between -40° C and 105° C. They come standard with voltage ranges of 180 V, 275 V and 350 V. The capacitance range is standard at 1.0 ~ 70.0 µF, with other ratings reviewed on request. The BLF series has a dielectric strength of 160% of rated voltage for two seconds and capacitance tolerances between plus/minus 5% and plus/minus 20%.
Also similar to the BLS, it has a low dissipation factor and a high insulation resistance. The BLF is suitable for AC output filtering in such applications as UPS, solar photovoltaic DC/AC inverters with an inductor-capacitor-inductor, or LCL filter.
American Shizuki Capacitors specializes in creating made-to-order solutions for unique applications. As a franchise distributor for ASC, New Yorker Electronics handles any custom requests for ASC products. They also supply the entire line of ASC's DC filters, AC filters, snubbers, traditional film capacitors and metallized propylene-protected dry caps for HID lighting.